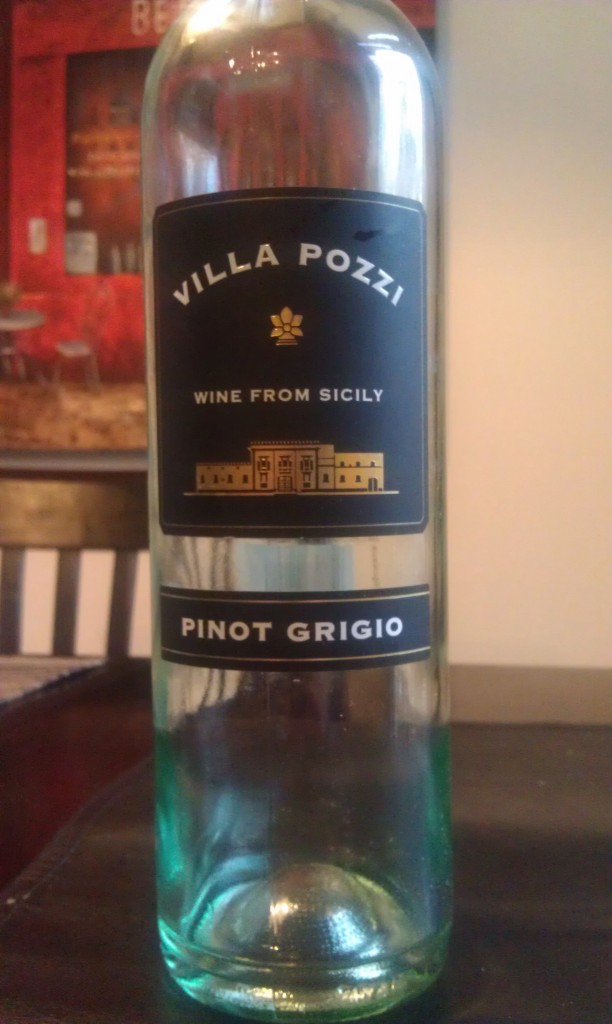 Varietal: Â 100% Pinot Grigio
Region: Â Sicily
Cost: Â $10 (SRP)
Winemaker's Notes:  Clear to light straw colored, this Pinot Grigio exhibits soft aromatic flavors of perfumed rose and soft honeysuckle that are attractive and indicative of the refreshing and rounded fruit style. The structure of this wine is well balanced and clean.  Wonderfully complemented by a firm and crisp acidic finish. This wine is perfect for sipping on its own, or as an accompaniment to fish, salads and seafood dishes.
My Review: Â I'll admit to sometimes being a bit wary of Pinot Grigio. While it was one of my entrants into the world of wine, there was a stretch where I couldn't find a one that I really was impressed with or wasn't disappointed in. Because of that I don't tend to seek it out myself. I say that so that I can say that I was actually impressed by the Villa Pozzi Pinot Grigio.
Now, when I say impressed I'm not saying that I think it's a paradigm shifting wine. Not even close. But, I did find myself liking it better than I thought I would going in, and I certainly think it drinks better than it's price tag might imply to a lot of people.
The wine was a bit darker than I was expecting in the glass, without any of the green hues that I've come to see in the pinot grigio I've recently seen. On the nose I picked up honeysuckle, which I expected. In the mouth the wine was rounder than I was expecting, though still maintaining the light, crisp notes that one expects from a Pinot Grigio, with flavors of apple being the most prominent to me.
Paired with broiled tilapia the wine did a good job of bringing some acid to the meal without being too tart and overwhelming the lighter fish thanks to the surprising roundness. It was that roundness that made it enjoyable enough to sip on without any food as well, since there wasn't too much acid that begged for food.
I'm not going to say that you'll see me drinking a bunch of Pinot Grigio any time soon, and if you're not a fan of the wine this won't change your mind. But, if Pinot Grigio is something that you do like and you've been looking for an affordable one that's maybe slightly different from some of the others, the Villa Pozzi might be worth checking out.