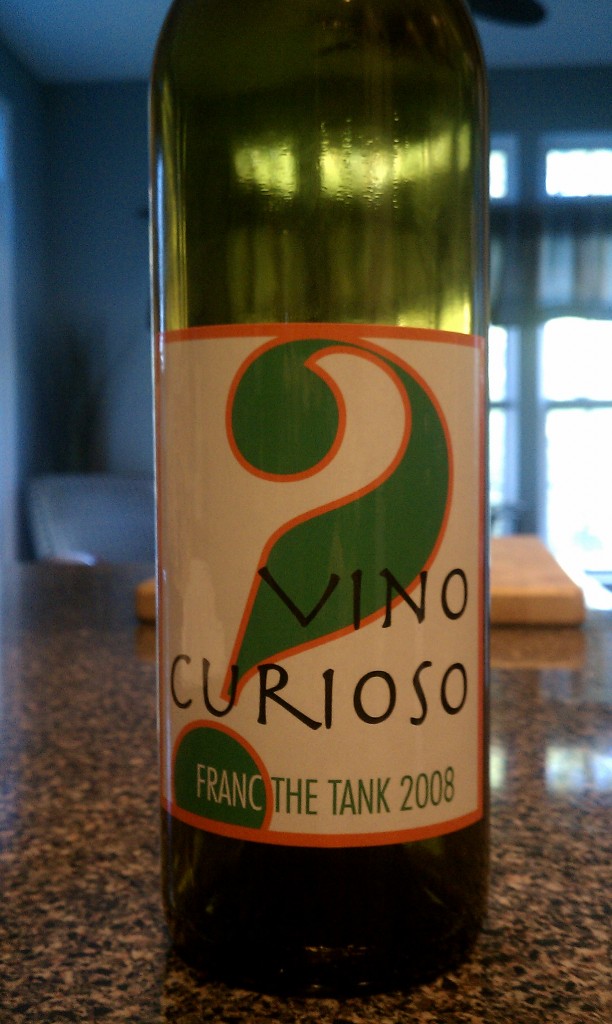 Varietal: Cabernet Franc
Region: Virginia – USA
Cost: $20
Somewhere between light and dark red in the glass with the aromas and flavors of freshly crushed fruit. Â Soft tannins on the finish with just a hint of pepper. Â Pair with chicken, pasta, and grilled meat.
Recommendations: I realized last night that it has been more than a year since I've reviewed Franc the Tank from Vino Curioso. Â The last time I reviewed it was the 2006 vintage, and while the 2008 that I was drinking last night is certainly similar, it's obvious that the wine has grown.
A bit darker in the glass than I remember it being a year before, and with a more subtle pepper finish, the crushed fruit in the 2008 really comes out and makes that finish more enjoyable without it kicking you in the face. Â Paired with a quick dinner of pasta and red sauce, Vino Curioso's Franc the Tank is a great table wine.
That's not to say that you can't serve this wine for fancy occasions, but as I sat down to dinner with my wife, we used tumblers instead of wine glasses and simple bowls for our pasta and I could swear it was like being in Italy all over again…minus the Chianti.
I've been a fan of pretty much everything Vino Curioso does since I first discovered them 3 years ago, and I continue to be a fan every time I open a bottle of their wine. Â While the Franc the Tank isn't your typical Virginia Cabernet Franc, it's one that I'm sure you'll enjoy and that I definitely recommend trying out.