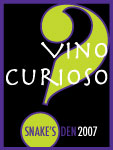 Varietal:  Cabernet Sauvignon
Region:  Virginia – USA
Cost:  $20
Hints of blackberry make this light to medium-bodied wine easy on the palate.  A solid finish is marked by hints of pepper that are more reminiscent of Cabernet Franc than Cabernet Sauvignon.
Recommendation:  When I first came across Vino Curioso last year, this quickly became one of my favorite wines.  Their Snake's Den Cabernet Sauvignon pays homage to the Cabernet Franc grape that is the staple of Virginia wineries, shying away from the fruit-forward stylings of the Cabernets of the West Coast.  A very lightly colored red, there is a surprising amount of flavor.  Smooth blackberry flavors are complimented by the surprising hint of pepper at the finish, making this wine perfect for enjoying with food or by itself.  If you're a fan of California Cabernet Sauvignon, the Snake's Den probably isn't going to be a good fit for you, but if you're a bit fan of Cabernet Franc, but are in the market for something with less pepper on the finish, this could be the perfect wine for you.