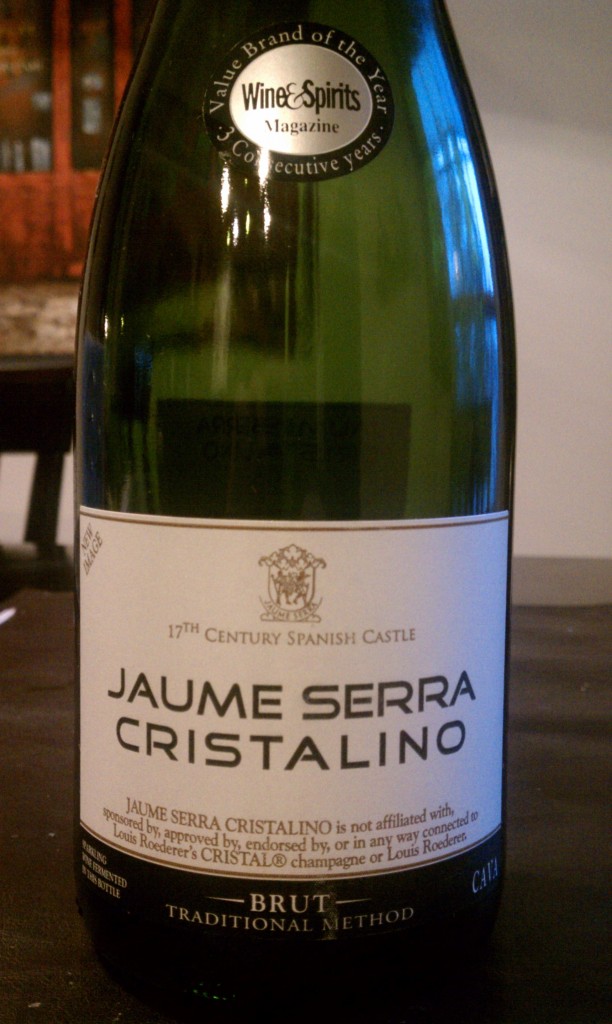 Varietal: 50% Macabeo; 35% Parellada; 15% Xarel-lo
Region: Spain
Cost: $10 (SRP)
Fresh, toasty nose with flavors of citrus, green apple, and mineral with a clean, crisp finish. Â Pairs well with caviar, sushi, seafood, fried foods, and Asian dishes.
Recommendations: This bottle showed up quite unexpectedly at my office one day, but once I opened the packaging, I'd be lying if I said I wasn't looking forward to checking it out. Â This past Friday, after a long week, my wife and I decided it was time to toast the weekend and popped open the bottle.
The nose was very subtle, without the typical yeasty aroma I associate with sparkling wines, but I did get a hint of the toast and it was certainly a fresh, clean aroma. Â Mineral flavors were the most dominant on the palate, with citrus and green apple showing, but not dominating. Â The wine was crisp and the bubbles were small enough to make it easy to drink without feeling like you were drinking a soda.
We finished the wine with our dinner, a meal of oven baked chicken and a pasta side, and while it wasn't a terrible pairing, I'd much rather have just enjoyed the wine by itself or with a plate of sushi or fried finger foods. Â Yes, this may actually be the perfect Super Bowl party wine – it pairs great with fried foods.
For the price, if you're looking for a bottle of bubbles to open for New Years, you'd be hard pressed to find one that's got this quality for the cost. Â I'd be lying if I said I was a connoisseur of sparkling wines, but I do know the difference between good and bad, and this was certainly good, and one I'd drink again and would recommend to anybody looking for a bottle of sparkling wine.