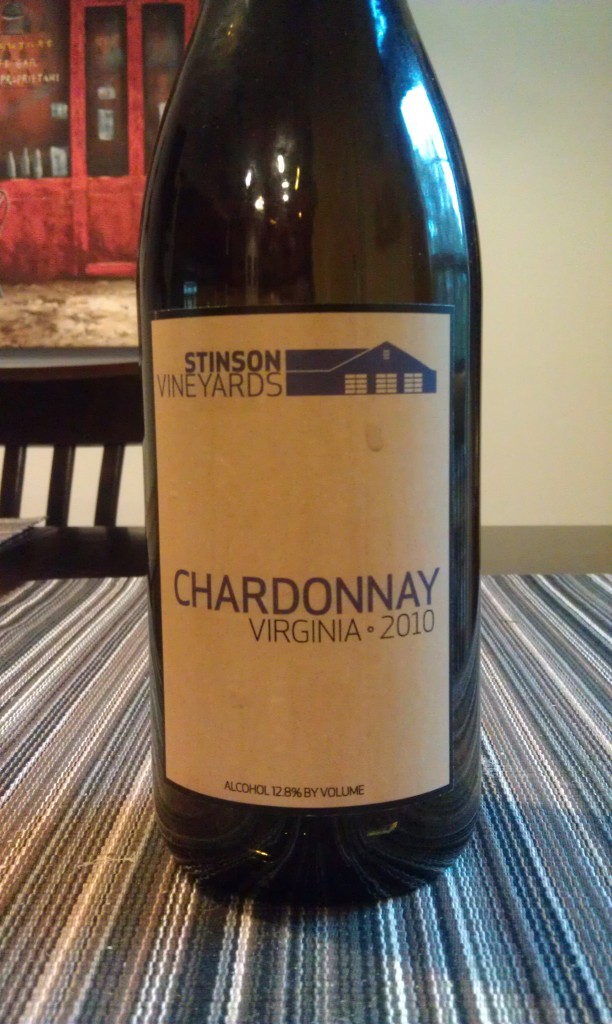 Varietal:  100% Chardonnay
Region:  Charlottesville, Virginia – USA
Cost:  $20
Winemaker's Notes:  The 2010 Chardonnay is lightly oaked in 25% new French barrels. Sharp and crisp with a long finish and round floral nose. Soft caramel and vanilla undertones make this white accessible to all wine lovers. Serve with cheese and anti-pasta, salads, or fish.
My Review:  Typically when I drink a wine that I know I'm going to write about I try to pair it with food in an effort to give it some reference and to see if the wine is better with or without a meal. Sometimes, however, I just want to enjoy some wine and then write about it anyways. This happened to be one of those times, as my wife and I opened a bottle of the 2010 Stinson Vineyard Chardonnay we had picked up back in March during a trip to Virginia wine country with my parents.
Stinson was one of those vineyards that when I first visited them shortly after they opened I wasn't blown away, but saw potential. During our more recent trip there they were really starting to show some of that potential, and I look forward to seeing how they do in the years to come. As for the wine itself, my wife isn't a big fan of oaked Chardonnay, which was why when she liked this one I made a point of buying some.
The wine was light gold in the glass, and I picked up aromas of burnt toast. In the mouth the wine was soft and fairly round, though not overly oaked. Flavors of vanilla and pear were what jumped out at me, and the wine had a nice semi-crisp finish that I think would make it a good pairing for a variety of foods.
While we didn't have this wine with any food, I could definitely see pairing it with some chicken seasoned and cooked on the grill, or just some cheese and crackers on a weekend on the couch. It's a nice versatile white, and the price makes it a bit more attractive to keep around as a table wine.
I won't go so far as to say this is my favorite wine of all time, not even my favorite wine that Stinson produces, but it was enjoyable and for a middle of the road white for around $20 it's hard to argue against. If you're somebody that likes oaked Chardonnay and often drinks with somebody that doesn't, this wine should be on your radar.