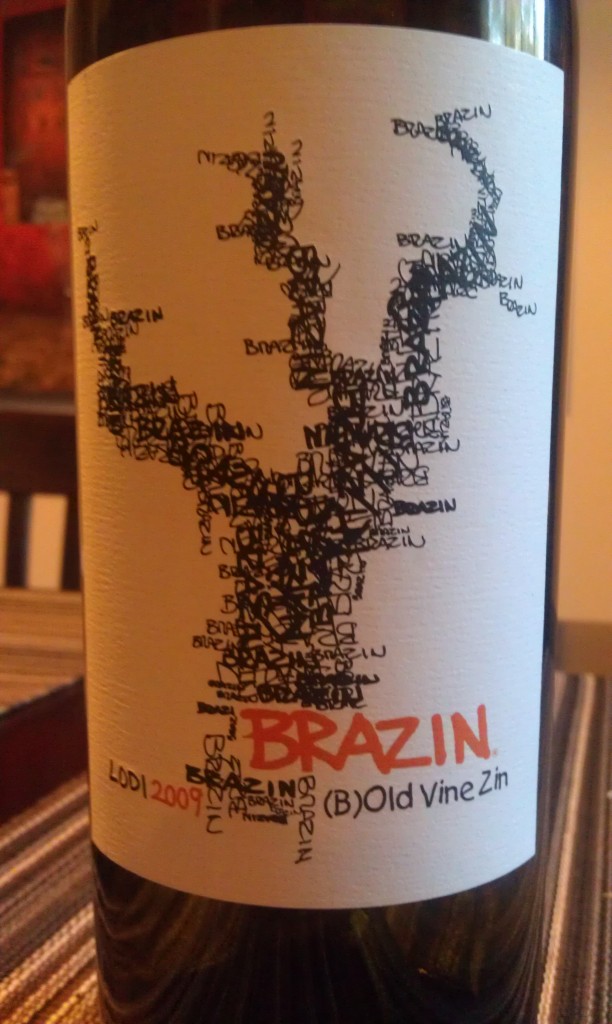 Varietal:  100% Zinfandel
Region:  Lodi, California – USA
Cost:  $17
Winemaker's Notes:  Bountiful, rich dark berries fuse with plums and figs, punctuated with notes of vanilla, mocha and pepper. Pairs well with saucy ribs, pepper steak, pasta with spicy red sauce, or pizza with most toppings.
My Review:  The wife going out for happy hour with the girls could only mean one thing – me, a steak, and a bottle of red wine. It's a torrid love affair that goes on whenever she's not around. Picking up a steak at my local store, I perused the wine aisle and thinking that I wanted a Zinfandel to go with my enormous piece of red meat, my eye was drawn to the bottle of Brazin. Once I got home I threw the bottle in the fridge to bring down the temp on it, since it's insanely hot outside, and got to work on seasoning up a steak.
I opened up the bottle a little before dinner was ready to let it open up a bit, and because I wanted to try it with and without food. On the nose I got dark berries and vanilla, and in the mouth the wine was juicy with fig and mocha notes that I really enjoyed. When the steak came off the grill I was ready to see how it would pair, and it did so beautifully.
I kept my seasoning on the steak simple – salt, pepper, and some garlic. It was a good piece of meat and I wanted to let the flavor of the NY Strip come out and didn't feel like waiting to marinate it for a few hours. The juiciness of the steak was a perfect match to the juiciness of the wine and my mouth was awash in lush dark flavors and smoke from the wine and the meat.
Even after the steak was consumed (it never knew what hit it), I sipped at the wine, enjoying it by itself almost as much as I did with the food. Make no mistake, this is definitely a wine to pair with food, but it's got enough going on that you can enjoy it by itself if you're looking for an evening sipper that has a bit of character. Definitely worth the roughly $15 you'll spend on it.