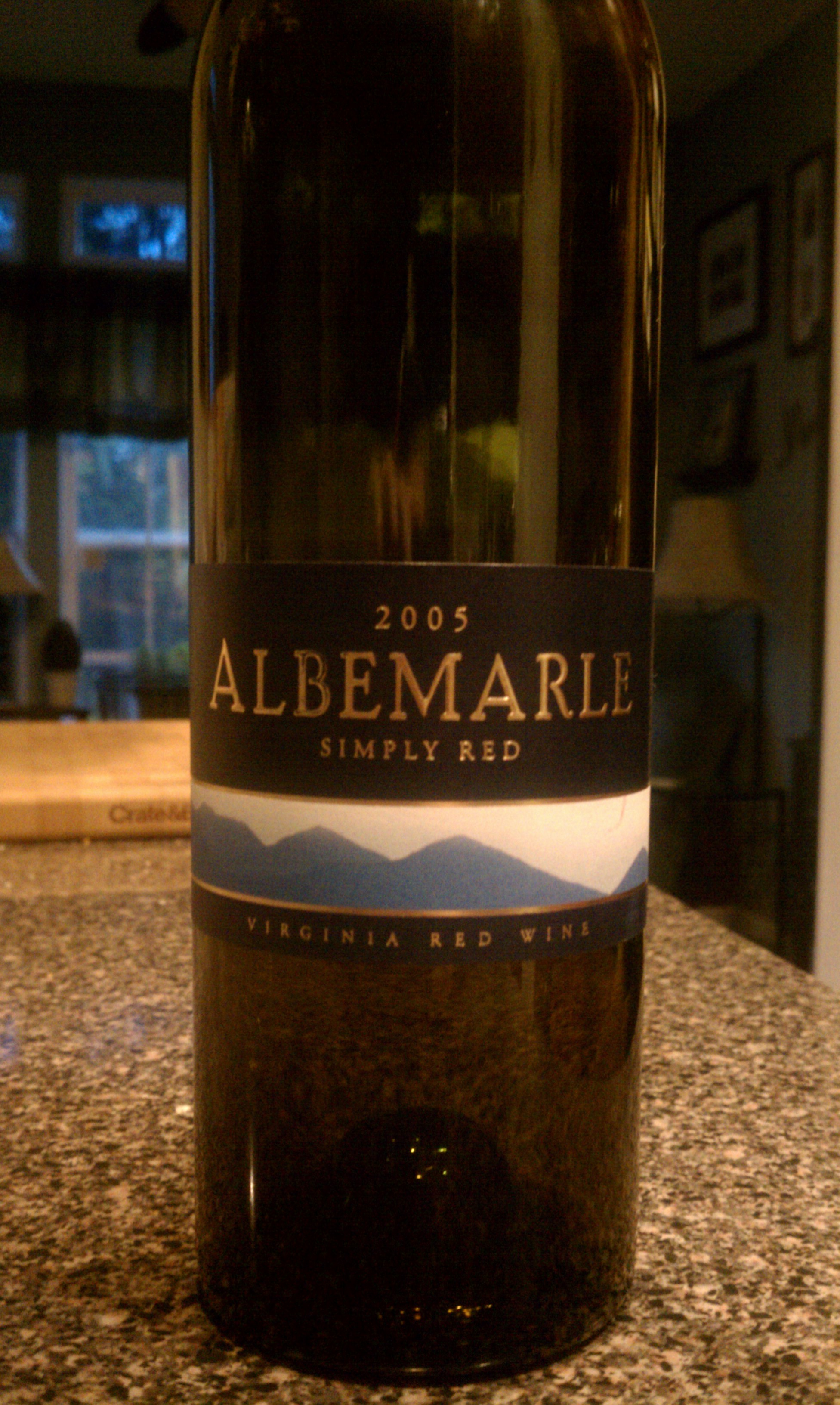 Varietal: Blended Red (Cabernet Sauvignon, Cabernet Franc, Merlot, Petit Verdot)
Region: Virginia – Charlottesville – USA
Cost: $14
Deep ruby red color with aromas of fruit and berry with a hint of spice.  Flavors of blackberry, blackcurrant, licorice, and spice.  Pairs well with pastas, veal and beef stews, cheeses, and hearty main dishes.
Recommendations: One of the last bottles of wine I have from that March trip to Virginia Wine Country.  Seemed fitting to open it during Virginia Wine Month.  There's something about a nice dark glass of wine that I find enjoyable, and the 2005 Albemarle Simply Red from Kluge Estate Winery certainly fit the bill.  The aromas of fruit, berry, and spice, which lead into nice flavors of the same, were a nice match to the pizza I cooked up on Tuesday after a trip out to the driving range with my wife and best friend.
While I don't know the exact percentages of each grape in the blend (I have an idea based on the 2006 vintage of the wine, but won't write it down if I don't know it for a fact), I could definitely tell that the Petit Verdot was helping to smooth out the finish, making it nice and smooth, and making the wine enjoyable both with something to eat or to just sip on.
All in all I enjoyed this Bordeaux-style blend and would be interested to try the 2006.  If you're out near Charlottesville it's certainly worth poking your head into Kluge Estate Winery to try their selection.