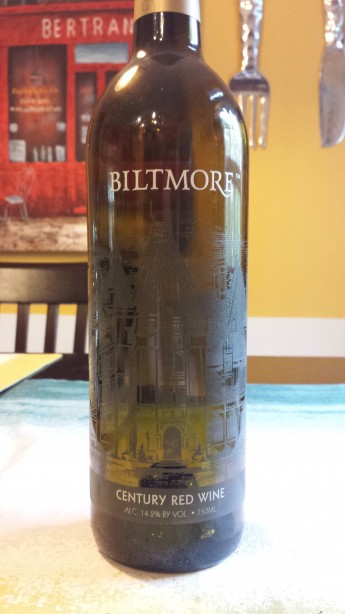 Varietal:Â  Sangiovese, Merlot, Zinfandel
Region: Â California (Cienega Valley, Sonoma, Lake County)
Cost: Â $16 (SRP)
Winemaker's Notes: Â Dark cherry red color with aromas of oak, vanilla, dried herbs, blackberry, violet, and plum. Fruit forward flavors of blackberry and raspberry. Medium bodied with pleasant lingering tannins. Pairs well with duck with raspberry sauce, pot roast, prime rib, and lava cake.
My Review:Â  The wife out with friends, warm weather, and a bottle of red wine on my rack can only mean one thing – I fired up the grill, cooked a steak, and opened up the bottle. While technically a non-vintage, Biltmore does release the Century Red annually, and this would be the 2011 vintage.
In the glass the wine was a nice dark red, and on the nose I picked up vanilla and plum most prominently. The wine is definitely fruit forward, but manages to avoid being a fruit bomb, though only just. Medium bodied on the palate, raspberry was the most forward of the flavors to me, but I did pick up some blackberry as the wine opened up.
Paired with the steak the wine was definitely overwhelmed, so if you're going to open this up, definitely pay attention to the pairing recommendations if you want it to have a better chance of shining. All in all the wine isn't bad – fairly unremarkable, but serviceable for a Tuesday night and not unreasonably priced, though I'd say if I saw it for any more than about $20 I'd have to walk away, so keep that in mind when prowling the shelves of your local wine shop.
Editor's Note:  I received this wine as a free sample for review.