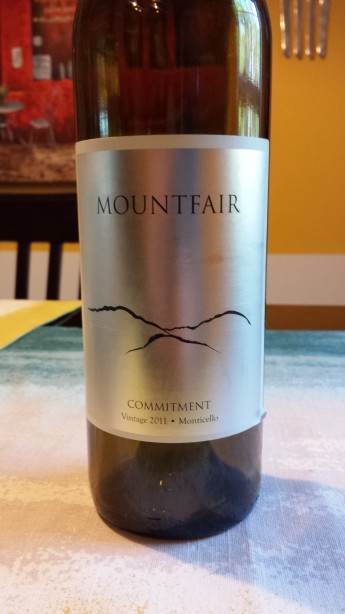 Varietal: Â 50% Cabernet Franc; 20% Merlot; 20% Petit Verdot; 10% Cabernet Sauvignon
Region: Â Charlottesville, VA – USA
Cost: Â $25
Winemaker's Notes:  It's a supple wine with soft, velvety black cherry, smooth tannins and a silky finish.
My Review: Â Normally this time of year I'd be seeing some Engagement from Mountfair showing up at my door since I'm a wine club member. However, 2011 was a tricky year for grapes in Virginia, and they weren't able to produce enough Merlot to make the Engagement. So instead they created a Cabernet Franc focused blend that I think may have turned out even better than the Engagement.
While the Mountfair wines are normally a bit lighter in the glass, the 2011 Mountfair Commitment showed a lot more body that I was expected, which wasn't a bad thing. The wine was dark in the glass with aromas of dark cherry that carried over to the mouth. In the mouth the wine had a rounded, medium-bodied feel that I enjoyed, with nice silky smooth finish.
I haven't paired this wine with food just yet, but I'm looking forward to trying it with something off the grill, perhaps even a steak that will compliment the body of the wine. While I've certainly enjoyed the Engagement in the past, I have to say that the 2011 Commitment may actually be one of my favorite wines that Mountfair has produced, and I'll be interested to see if this is something that they make again in the future.