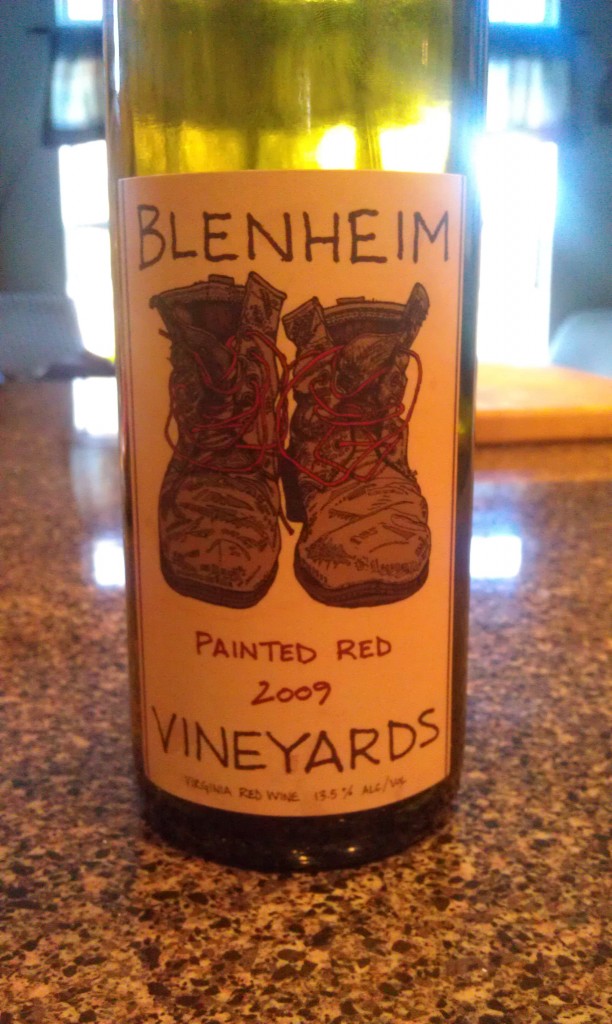 Varietal:Â  41% Merlot; 36% Cabernet Franc; 17% Cabernet Sauvignon; 6% Petit Verdot
Region:Â  Virginia – Charlottesville
Cost:Â  $$30
Winemaker's Notes:Â Â Fresh scents of violet, blueberry, and cinnamon lead to lush flavors of blackberry jam, anise with soft tannins on the finish.
My Review:Â  The Virginia Wine Expo was this past weekend, and unlike in years before, my wife and I decided to skip the even this year in favor of visiting vineyards in a few weeks with some friends and family. The crowds at the Expo are just getting to much to handle and give the wine the proper attention it deserves. That being said, nothing precluded me from enjoying some Virginia Wine over the weekend, and on Saturday night my wife and I opened up a bottle we had picked up from Blenheim during a trip last year to go with a steak we had thrown on the grill.
By this point it should really be no surprise to anybody when I speak highly of the wines from Blenheim, but I do feel compelled to continue to heap praise on them as I've yet to try something that their winemaker Kirsty has produced that I didn't find enjoyable. The 2009 Painted Red was no exception.
Nice and dark in the glass with hints of violet running through, I got aromas of blueberry and cinnamon for the most part, with some lushness to the nose that bespoke plenty of flavor to come. In the mouth dark fruit walked a balance between being full and medium bodied with a nice soft finish. The wine did a good job of holding up against the steak, but thanks to the line it walked it was enjoyable enough after the food was done to just sip on, though if you prefer a lighter red to sip on this might not be your cup of tea.
My only regret to not attending the Virginia Wine Expo this year is that I have to wait a few more weeks before I can restock my supply of Virginia Wine, which is admittedly down to about three bottles from Blenheim, but if you attended this year, or if you don't live in the area, I as always recommend going to the Blenheim Website and ordering some of their wine to try. It really is quite good and all of it ready to drink right now.