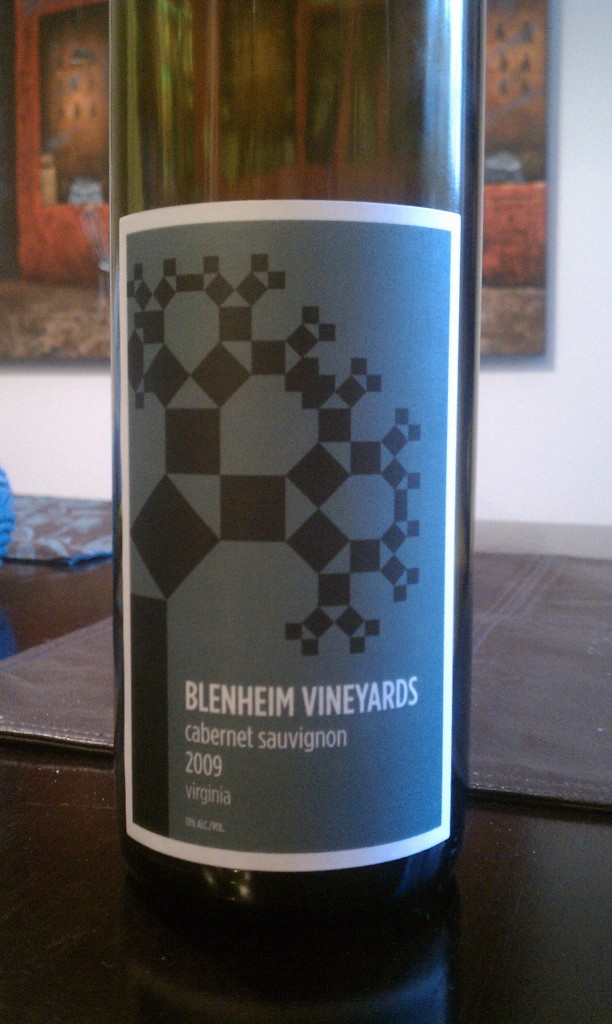 Varietal: Cabernet Sauvignon
Region: Charlottesville – Virginia – USA
Cost: $20 (SRP)
Winemaker's Notes: Velvety accents of plum, raspberry and lilac charm the nose while flavors of lively tangerine and red apple dance across the palate. Aged in French and American oak.
My Review: I have, in the past privately amongst friends and family, and publicly on this website as well as several others, made it quite clear how big a fan of Blenheim Vineyards and their winemaker Kirsty Harmon. Thanks to the 2009 Blenheim Vineyards Cabernet Sauvignon the streak is still alive.
During the latest Virginia Wine Expo, I made it a point to stop at the Blenheim Vineyards booth where Kirsty was kind enough to take myself and my family through the tasting which of course lead to a certain inevitable ending – I came home with wine. Last night while the wife was out with a friend (read: abandoned the dog and I to our own devices), I tossed a steak on the grill and opened up a bottle.
In the glass the 2009 Cabernet Sauvignon was a nice medium-dark red. It wasn't inky, but it wasn't anything even approaching light either. On the nose I got nice notes of raspberry that lead into the palate with an almost tartness on the finish that I quite enjoyed. This faded as the wine continued to open up and instead turned into a nice smooth finish – both were great.
The wine was a great pairing with the steak, in part because it had just the right amount of body to be enjoyed before, during, and after the meal. The only really disappointing part about this wine is that I'm not down to two bottles which means I'm that much closer to another trip out to Blenheim Vineyards. This is the price we have to pay sometimes.
If you want to try the 2009 Blenheim Vineyards Cabernet Sauvignon, and you're not close enough to just drive out there (which I highly recommend), you can order the wine through their website (http://www.blenheimvineyards.com) and have it shipped directly to you.