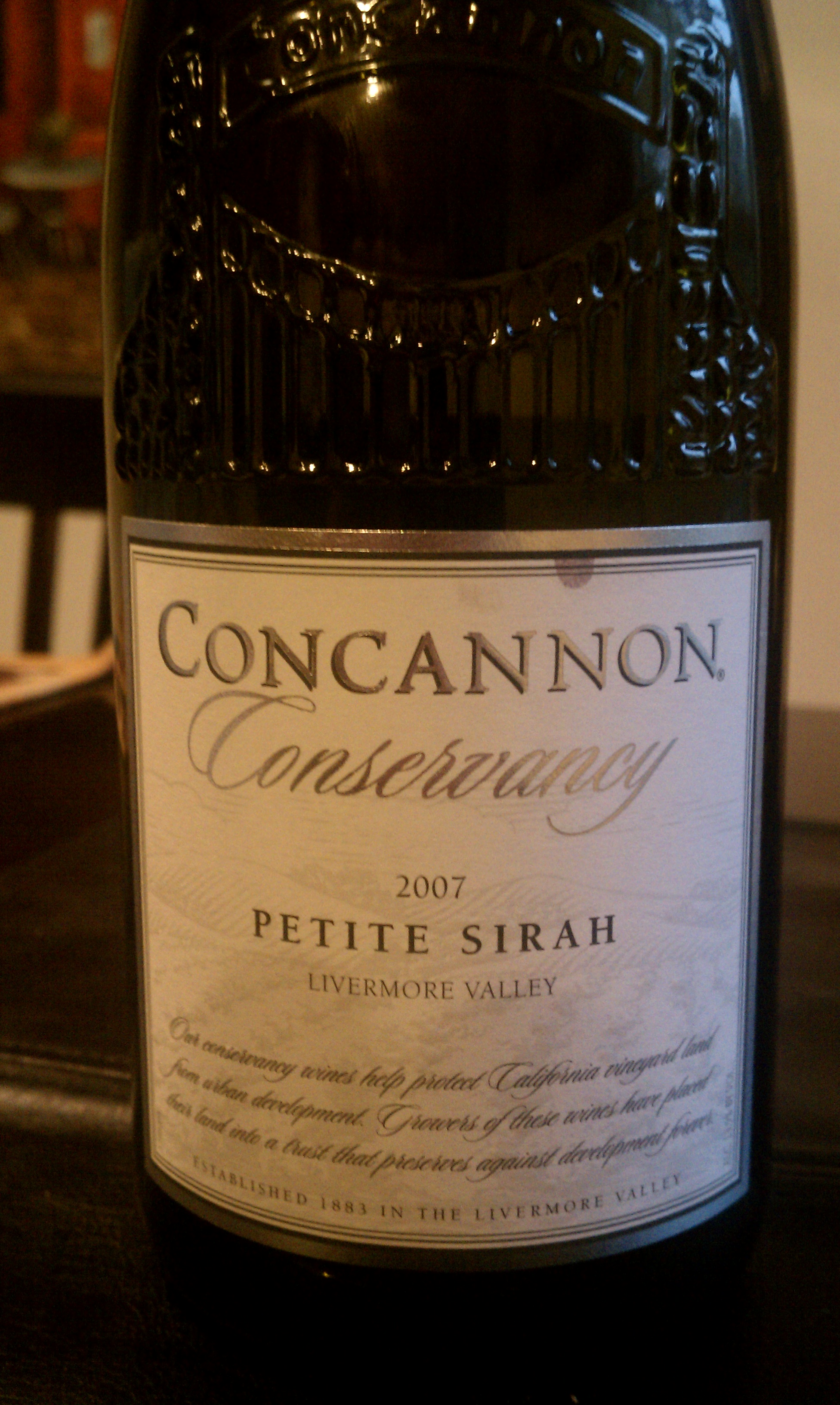 Varietal: Petite Sirah (97% Petite Sirah; 3% Petit Verdot)
Region: California – Livermore Valley – USA
Cost: $15 (SRP)
Deep red in color with aromas of fresh berry fruit and flavors of blackberries, chocolate, mocha, and plums with notes of molasses, cedarwood, and ripe mulberries complementing creak oak tones on the smooth finish.  Pairs well with barbecued chicken or lamb.
Recommendations: I don't have a lot of experience with Petite Sirah by itself, seeing it more blended in with other wines as a small piece instead of the main attraction.  I had been sitting on this wine for a while, looking forward to it as I enjoyed the 2008 Concannon Conservancy Chardonnay a couple of months earlier, but regularly putting it off to have this or that wine with this or that meal.  Last night I finally stopped putting it off.
I specifically threw some chicken on the grill, basting it in barbecue sauce to pair with this wine, and it was a good pairing.  The flavors of plum and molasses were most noticeable to me, though I suspect that the sauce brought those flavors out more on my palate than anything and pairing the wine with something like lamb would pull out more of the other notes.
I did appreciate the smooth finish, which I'm sure the small amount of Petit Verdot had a hand in, but I do have to say that I enjoyed the wine more with food than without.  That's not so say that I didn't enjoy the wine after the meal was gone, but I did find that the flavors I was getting were better with food than without, but that may just be my mixed feelings on molasses to be honest.
For somebody that cooks a lot of barbecue chicken or lamb, this is a good value wine that's worth trying out.  If you're like me and you've had plenty of wine blended with Petite Sirah but not featuring Petite Sirah, I would definitely recommend giving this a try as I think it'll give you a better idea of what the Petite Sirah is bringing to your other wines.