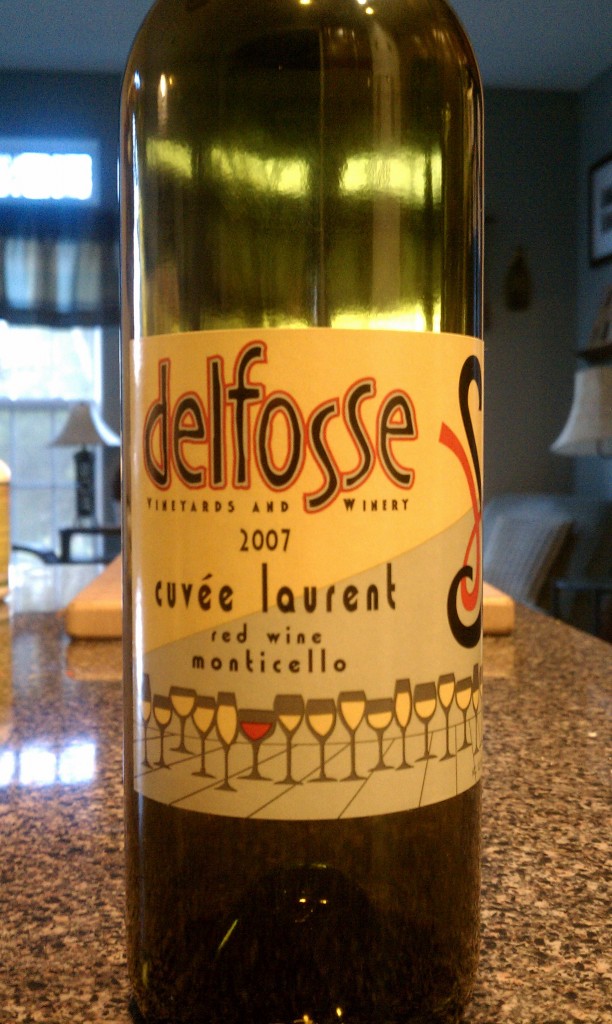 Varietal: Blended Red Wine (72% Chambourcin; 22% Cabernet Franc; 6% Merlot)
Region: Virginia – USA
Cost: $18
Deep red in color with aromas of fruit notes of blackberry and jam. Â Flavors of bright fruit with soft tannins and slight oak and a mild smokiness. Â Pairs well with pastas, lighter meats, and cheeses.
Recommendations: My wife picked up this bottle a couple of months ago at the Carytown Food & Wine Festival while I was pouring for Grayhaven Winery. Â I was familiar with Delfosse having visited them a few times at various Virginia wine festivals, but couldn't remember this specific wine.
The wine was a dark red in the glass, and I did get berry and fruit aromas on the nose. Â In the mouth I got none of the oak or smokiness described in the tasting notes, but I did get the bright fruit flavors and a touch of acidity. Â With a quick dinner of pizza on a cold December night it was a good bottle of wine, though to be perfectly honest, I'm not sure that I'd pay $18 for it again. Â That's not to say that it's not good, and I'm not implying that Virginia wine is too expensive (that's a discussion that's been going on a lot in blogging circles as of late), but I know I can get another Virginia wine with similar characteristics for less money.
That being said, if you want to give this wine a try, I don't think you'll be wasting your money. Â While I don't know how available Delfosse wines are at local stores, they do sell their wines from their website. Â It was a good table wine, and I'd drink it again, just not at $18 a bottle.