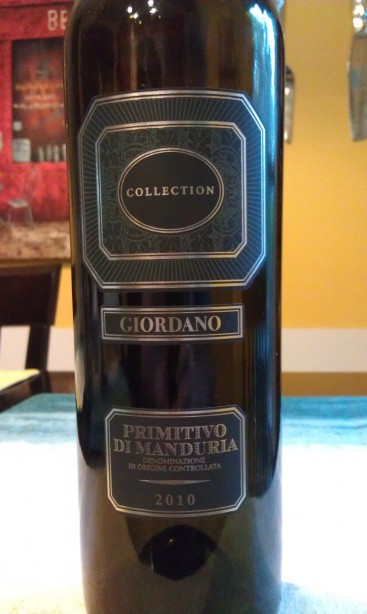 Varietal: Â Sangiovese
Region: Â Apulia Manduria
Cost: Â $14 (SRP)
Winemaker's Notes: Â The long oak aging gives this wine its intense red-violet color, a rich aroma with hints of figs and other Mediterranean fruits and vanilla, and a full-bodied, warm flavor with soft tannins for a velvety finish. Ideal with roasted or braised red meats and mature and sharp cheeses such as Stilton, Blue, Romano, or Parmesan-Reggiano.
My Review: Â The last of my Italian wines that showed up a few weeks ago. A dinner of surf and turf with the wife called for something red to pair with the steak, but something that wouldn't totally overwhelm the lobster tails we tossed on the grill with them. Enter the 2010 Primitivo di Manduria.
In the glass the wine was red with slashes of violet that created an almost rusty red color. I actually like this color in my wine – not because of anything it implies about the wine, but just because I enjoy the color. On the nose I picked up vanilla and dried fruit, both of which carried over to the palate.
The wine did a great job of walking the line between being full-bodied, which went great with the strip steak that my wife had picked up at the store, and smooth, which went well with the lobster tails that she had also picked up. Even without the food the wine was enjoyable to sip on, thanks to the line it was walking between body and smoothness.
Out of the three wines from Giordano that I was sent I think this may be my favorite. None of them were bad, and Sangiovese/Chianti always has a special place in my heart, but of the three of them this was definitely the one I would pick up at the store if I saw it on the shelves.
Editor's Note: I received this wine as a free sample for review.