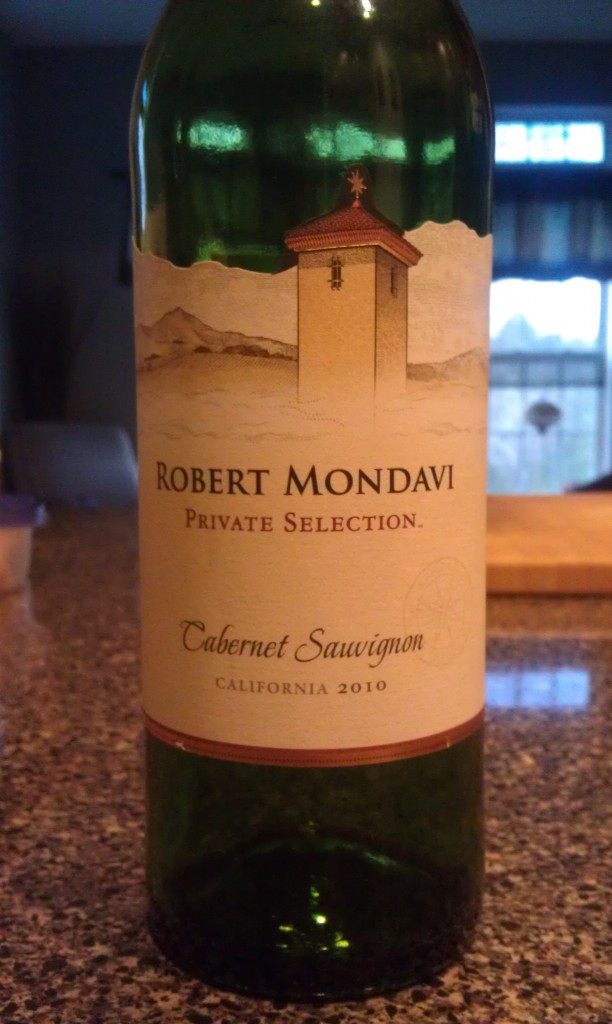 Varietal:Â  88% Cabernet Sauvignon; 5% Syrah; 3% Merlot; 2% Petit Verdot; 1% Malbec; 1% Cabernet Franc
Region:Â  California – USA
Cost:Â  $11 (SRP)
Winemaker's Notes:Â Â Â The wine has a smooth texture and sweet, red fruit character that distinguishes California's finest Cabernet Sauvignons, along with smoky oak, vanilla, and roasted nut accents to invigorate the palate and provide a lengthy finish. Enjoy with standing rib roasts, grilled steak, roast duck, spareribs, lasagna, or flavorful hard cheeses.
My Review:Â  An evening where my wife was out and I was home alone with the dog to fend for myself on dinner usually only means one thing – steak, a baked potato, and a bottle of red wine to be enjoyed. There are worse ways to spend an evening. I'd been sitting on this sample until I could get around to cooking up a steak, and as tends to be the case, I'm glad I did.
There's a line where a line goes from having good fruit to being a fruit bomb. Don't ask me exactly where that line is, because I think that it's different for every wine, but the 2010 Robert Mondavi Private Selection Cabernet Sauvignon did a good job of walking the line between fruity and fruit bomb.
On the nose I got dark fruit notes with a touch of roundness to it. In the mouth I got plenty of nice tart fruit, with raspberry and some blueberry being the most prevalent to me. The finish on the wine was surprisingly smooth, though with the extra varietals blended in that should come as less of a surprise than it was.
Paired with a ribeye I picked up at the local store it was a nice simple wine that didn't try and do too much, but was more than adequate before, during, and after the meal. As value wines go, particularly for a California Cabernet, this is a good choice if you're looking for something that's easy to drink, and will make a good choice as a red wine option during the holiday party season thanks to the price.