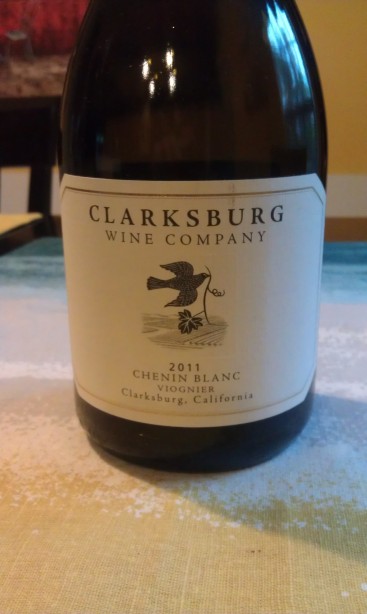 Varietal: Â 85% Chenin Blanc; 15% Viognier
Region: Â Clarksburg, California – USA
Cost: Â $16 (SRP)
Winemaker's Notes: Â This wine exhibits a complex bouquet of tropical fruit and floral notes. Initial impressions of melon, apricot, and mango evolve into kaffir lime and mandarin. The fruit is framed by intriguing wisps of ginger and angelica. On the palate, the wine delivers rich stone fruit and pear flavors in a lush syrupy texture. The wine finishes fresh with hints of minerality and mandarin orange.
My Review: Â I've enjoyed the wines from Clarksburg Wine Company that I've had the change to try, which has mainly focused on their reds outside of a few whites that I was able to try when meeting with John Beckman last October. Recently, however, a pair of white wines from the Clarksburg Wine Company showed up for me to check out, this one and a 100% Chenin Blanc that is sure to be opened shortly.

I was interested to try the 2011 Clarksburg Wine Company Chenin Viognier given that this time of year I drink quite a bit of Virginia Viognier and I was curious to see how the bit of California Viognier blended in here would show. On the nose the wine showed tropical aromas, though I didn't really get the floral notes that were mentioned in the notes, though I may have been searching too hard for the Viognier that I'm familiar with and missed what was there.
On the palate the wine was crisp with lime, stone fruit, and mineral, all with a nice crisp and clean finish. Paired with a dinner of chicken the wine was a nice crisp contrast to the herbs we put on the chicken before popping it into the oven. I'll be interested to try the 100% Chenin Blanc to see how it compares to this one, but I have to say that the Viognier didn't really pop for me.
Now, I understand that it's a smaller part of the wine, but I'll admit to hoping it would show more. Mind you, I'm not complaining about this wine; it was a great crisp wine that's perfect for this time of year and is versatile enough to pair with food or to enjoy by itself – I'll just be interested to see what I think after trying one that isn't blended and may come back here and revise my review once I've done just that.
Editor's Note: I received this wine as a free sample for review.