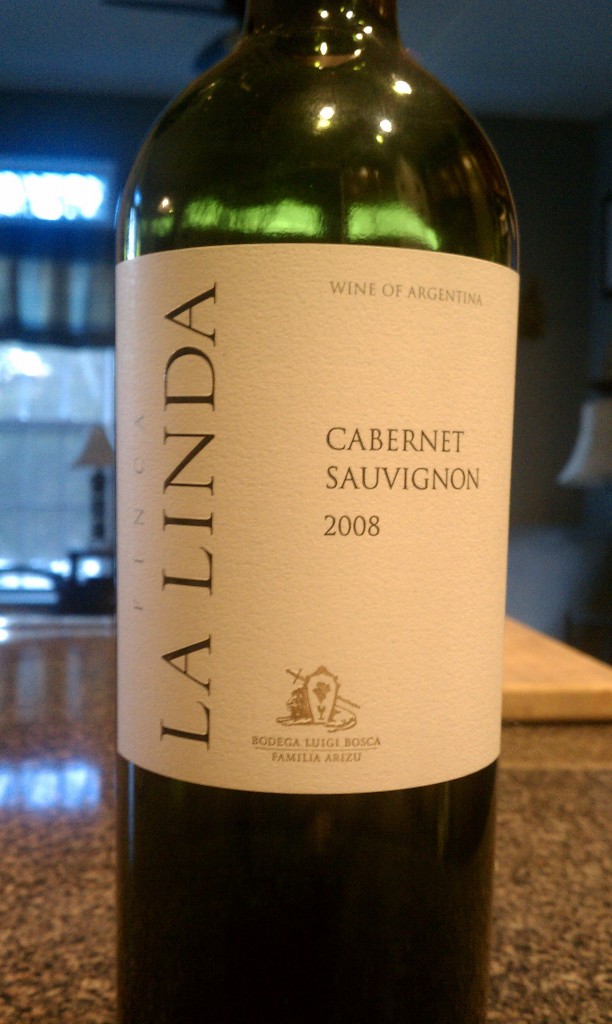 Varietal: Cabernet Sauvinon
Region: Argentina
Cost: $11 (SRP)
Maroon coloring with a hint of black throughout. Â blackberry, black pepper, and mulberry on the nose. Â Spice, cherry, pepper, and a tannic finish on the palate. Â Pairs well with red meats, big game, and hard cheeses.
Recommendations: When I got this bottle I instantly knew I needed to go and buy some steaks to pair it with. Â Any time the tasting notes on a wine say "red meats" in the recommended pairings section, I don't argue with them. Â I opened the wine last night while the wife had abandoned me to go out with some friends. Â Fortunately, a friend of mine came over and he and I cook steaks, drank red wine, and watched action movies. Â It's the 21st century, a Sunday evening for a couple of 30-something guys has changed.
The wine itself was a nice dark red with the hints of black throughout mentioned above. Â I didn't get a ton of blackberry on the nose, but I did get cherry and black pepper. Â In the mouth the cherry and pepper continued and were a great compliment to the two steaks that we cooked up. Â The wine was nice and dry without being too dry to drink by itself, which is a quality I find incredibly appealing in a steak wine.
For the price point, this is a hard wine to argue against. Â While the flavors aren't over the top bold and in your face, they're also not timid and won't be overwhelmed by the bigger flavors of a well seasoned steak. Â This is a great wine to put out if you're having a steak dinner, or, since the price on it is so appealing, as a red table wine for casual parties where you'll have out an assortment of cheeses.
If you can't find the 2008 Finca La Linda Cabernet Sauvignon near you, you can find it online by going here. Â If you're like me and are always looking to try new wines, especially those that can hold up to a steak, this is a great one to try out, and really, for the price, what do you have to lose?