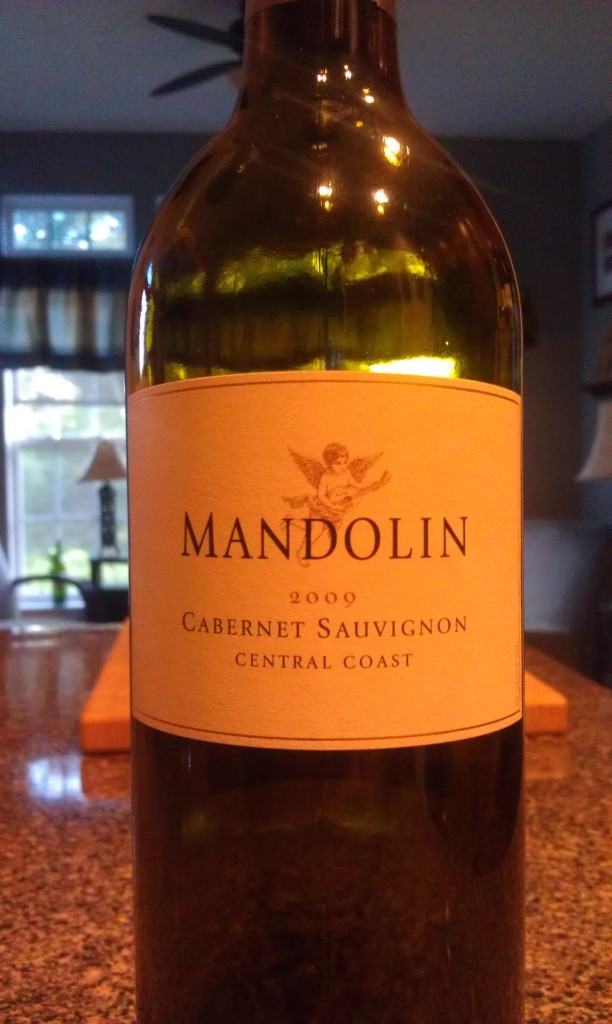 Varietal:Â  100% Cabernet Sauvignon
Region:Â  Central Coast – California – USA
Cost:Â  $12 (SRP)
Winemaker's Notes:Â  With its maritime influence, California's Central Coast region has an extended growing season that yields wines with full flavor development and great acid balance. Mandolin Cabernet Sauvignon has rich layers of currant and cherry fruit, framed by nicely integrated oak.
My Review:Â  I know when a lot of people think of inexpensive California Cabernet they think of light, fruit-forward wines that are great when you're just getting into red wine, but that later you find less enjoyable, preferring something with some body on it. I know this because I have those moments myself. This was not one of those moments.
With a pizza in the oven (cheese with some herbs and crushed red pepper thrown on in case you're wondering), I I looked over my options at wine and decided on the 2009 Mandolin Cabernet Sauvignon. In the glass the wine was unremarkable, in so far as it wasn't particularly light or dark. On the nose I got aromas of cherry with a touch of oak.
Currant and cherry really came through once I took a sip, and the wine did a nice job of walking the line between being too light and too big, with a nice soft finish thanks to the oak. Â This may in fact be the quinissential medium bodied wine. The wine paired nicely with the pizza, contributing far more to the dining experience than the Costco product did, and was just as enjoyable after the food was gone.
Normally I shy away from budget priced California Cabernet in the store because for every good one you get, there are three fruit-bombs waiting to get picked up. That being said, I would definitely pick up the Mandolin if I came across it in the store, and for the price it's a great table red to keep around.
If you can't find the 2009 Mandolin Cabernet Sauvignon at your local store, you can follow this link and have it shipped directly to you.