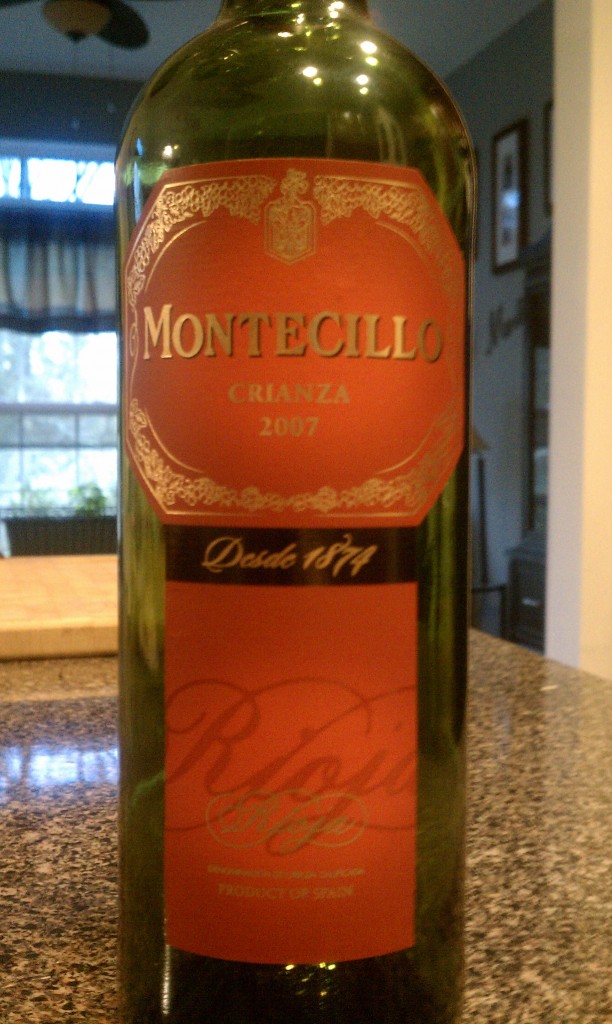 Varietal: Tempranillo
Region: Rioja – Spain
Cost: $13
Winemaker's Notes: Garnet red color with intense fruit aromas that pairs well with any meat dish.
My Review: I enjoyed the 2003 Montecillo Rioja Reserva so much that I didn't want to wait too long before opening up this bottle. I'm glad I didn't.
Since it was an absolutely gorgeous Monday here in Richmond, Virginia, my wife and I decided to grill out on the deck and enjoy the weather and some wine. I stopped by a local shop on my way home and picked up a New York Strip Steak and a Lobster tail – that's right, we went surf n' turf for dinner. The steak and lobster grilled, some risotto with parmesan cheese whipped up to go with it, and the bottle of wine opened and we were ready for dinner.
The wine was a nice dark garnet color in the glass – not as dark as the 2003 Reserva, but certainly not light by any stretch of the imagination. The aromas of fruit, noticeably plum and berry lead nicely into a wine that balanced good flavors of cherry and plum with a hint of cedar on the finish. Again, not as woody as the 2003, and in a blind tasting I think it would be easy to pick which wine was older, but not a wine that anybody would call fruity by any stretch.
Paired with the steak, lobster, and risotto, it was very enjoyable, and probably a better pairing than the Reserva would have been given the lobster's more delicate nature. Even after the food was gone it was nice to sip on, with just enough fruit on the palate to make sure you didn't have to demand food with it.
Of the two Montecillo wines I've had in the recent weeks, I'd have to say that the 2003 Reserva was my favorite. However, that is in no ways a condemnation of the 2007, and I would still recommend it, especially if you prefer a wine with a bit more fruit on it. If you can't find the wine at your local store, you can follow this link and have some shipped to you directly.