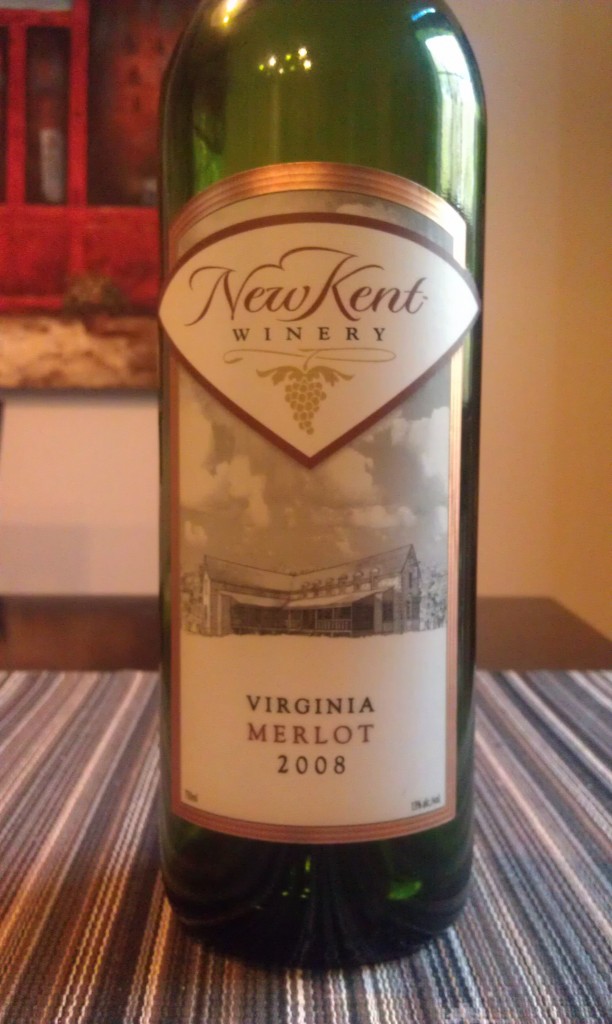 Varietal: Â 100% Merlot
Region: Â Virginia – USA
Cost: Â $18.50
Winemaker's Notes:  Hand-selected fruit crushed and allowed to warm during fermentation help this red wine with its intense color, tannins and flavors. Daily punching down of the cap (skins that rise to the top) help us extract the most from the very ripe fruit. Pairing: Our Virginia Merlot red wine pairs well with all tomato-based pasta dishes and tastes delicious with red meat.
My Review: Â Some weeks back my wife and I decided to take a quick drive down to New Kent Winery and try some of their wines. My wife had been there shortly after they opened and had been…unimpressed, but time had passed, and I had been intrigued by some of their wines I had tasted in more recent years, and was impressed with their 2009 Reserve Chardonnay that ended up winning the 2011 Governor's Cup for White Wine. After working our way through the tasting we came home with a couple of wines, and enjoyed another on their beautiful patio, and finally, a few nights ago, we opened up one of those bottles we'd brought home with us.
In the glass the wine was a nice dark color and on the nose I picked up notes of pepper and dark fruit. In the mouth I got the same pepper and dark fruit along with a nice smooth, semi-dry finish that was a bit juicy and sort of made me smack my lips, but in a good way. Looking back at my notes I knew that I had said this was a pizza/pasta wine, and so we paired it with an easy dinner of pizza. The wine was a great pairing with the cheese and sauce, and the pepper on the wine complimented the pizza rather well.
I wouldn't go so far as to call this a transcendent wine, but for under $20 it's a good value wine that can certainly serve well for those quick meals that tend to get prepared during the work week, and it's certainly not something that I would be ashamed to share with friends. It's good with or without food and it's nice to see New Kent Winery producing some quality wines. I look forward to visiting them again and seeing what they produce in the future.