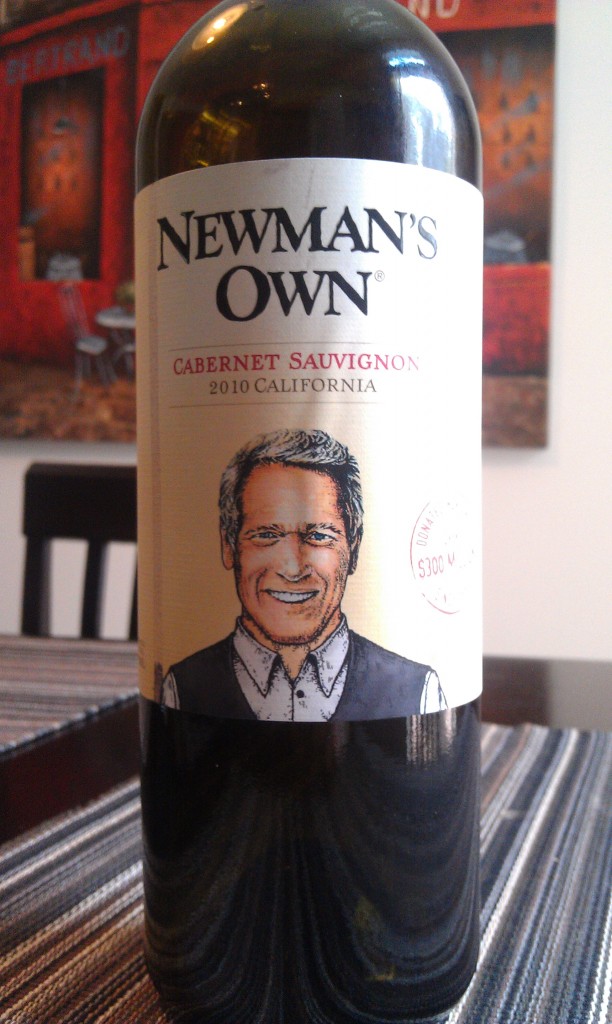 Varietal: Â Cabernet Sauvignon
Region: Â California – USA
Cost: Â $10
Winemaker's Notes:  Our rich, full-bodied Cabernet Sauvignon is a classic California Cab, offering hints of dried black cherries and toasty vanilla spice, with a long smooth finish. It's an opulent, layered wine with great tannins that will rock your world whether you drink it on its own or alongside a meal.
My Review: Â While picking out a bottle of wine for my wife to include as part of a larger present for a wedding shower, I saw a bottle that I had seen at other wines shops – the Newman's Own Cabernet Sauvignon. I was in the market for an inexpensive red wine to use as a table wine, and decided that for $10 it was worth giving this one a chance. So when we cooked up some pasta in a red sauce for dinner this past week, I decided to open the bottle and see what it had to offer.
To say I was surprised by this wine would be an understatement. Now don't get me wrong, this is not some transcendent Cabernet that rewrites what the wine should be and will change your views on it. Not even close. That being said, it wasn't the typical cheap fruit bomb Cabernet I was expecting either. The wine had some character and more than a single note.
On the nose I got vanilla and dark cherry notes as advertised. On the palate I got dark fruit, but also spice and a bit of cedar that I wasn't expecting. The wine was smooth and while there was fruit, it wasn't "fruity". The wine paired well enough with some quickly prepared pasta with red sauce and Italian sausage, and if it wasn't some amazing wine, it was certainly better than a lot of your typical red table wines.
Like I said above, this certainly wasn't some life-altering wine, but it was also a lot better than many inexpensive red wines I've purchased before, either for the same price point or even a bit more. If you're looking for an inexpensive red to keep around the house for yourself or to share with others, you can do a lot worse than the 2010 Newman's Own Cabernet Sauvignon.