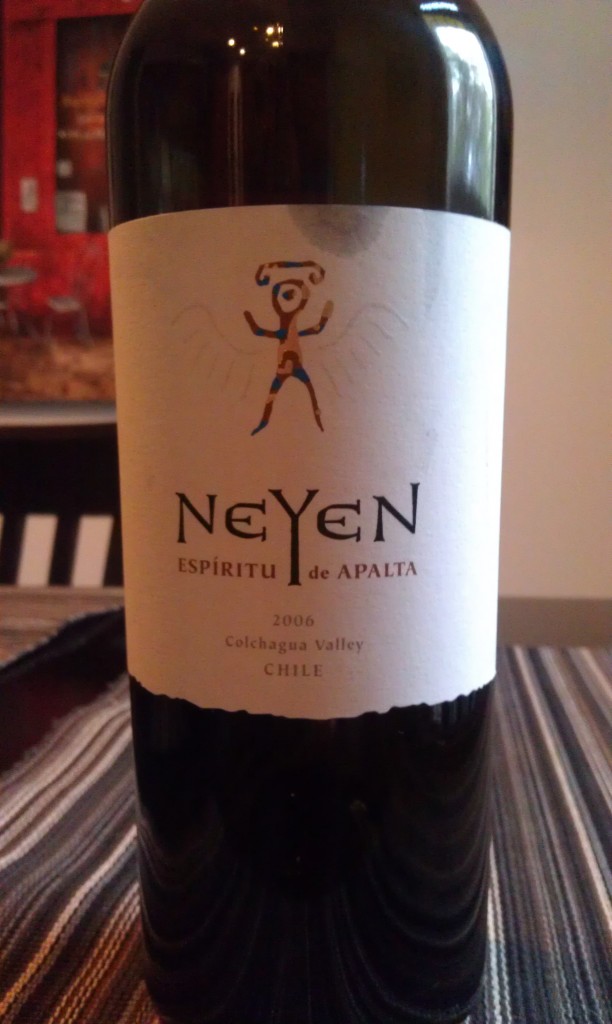 Varietal:Â  50% Carmenere; 50% Cabernet Sauvignon
Region:Â  Apalta, Colchagua Valley, Chile
Cost:Â  $60 (SRP)
Winemaker's Notes:Â  Intense ruby red color. Aromatic and complex with aromas of chocolate, honey, graphite, and minerals. On the palate the wine is a fresh, fine, and concentrated entry, with exceptional structure and tannins. Good balance and a persistent finish.
My Review:Â  When I was offered a bottle of wine from the Colchagua area of Chile I jumped at the offer. I'm a big fan of Chilean wines in general, finding them to be a great value, and the blend seemed perfect for pairing with something off the grill, which the growing summer here in Virginia just called out for. This past Saturday, after a visit to the local farmer's market where my wife and I walked away with a pair of steaks and some potatoes to cook for dinner, we opened opened up the wine while enjoying some gorgeous weather on the deck with some grilled meat.
In the glass the wine was a nice deep red color, and on the nose I got dark fruit and a really nice note of chocolate/mocha. In the mouth the wine was smooth and started out bright and with good fruit flavors, but towards the end the Carmenere seemed to come out and give a hint of a cross between bell pepper and chocolate on the finish that I enjoyed.
Paired with seasoned steak (a mix of salt, pepper, cumin, and coriander), some grilled spicy shrimp, and some seasoned red potatoes it was a great wine to enjoy on the deck on a warm May evening with something off the grill. The flavors of the wine perfectly complimented the seasoning on the food, and it was enjoyable to sip on just by itself even without food. My only real complaint with the wine is the price.
I understand that this is a six year old bottle of wine, and believe me, it's good. I really enjoyed it. In the $30 to $40 range I'd give it a whole-hearted two thumbs up with a big recommendation to buy. At $60 I'm more hesitant to say run out and buy it. I know for some people $60 isn't a huge sum to drop on a bottle of wine, and for those people I say go for it. For those others that cringe and spending that amount of money on something like wine I say it's good….but it's not life-altering wine. This is not some rare, once in a lifetime wine that you should grab and store on your shelf to show off to friends. This is a wine that you're going to want to drink now, which is great, but the price is going to turn some people off, which I totally understand.
All in all it was a really enjoyable wine, and I look forward to continue trying wines from the region. If you find this at a good price point I definitely recommend it, but if you shy away from it for the SRP of $60, I completely understand and sympathize.