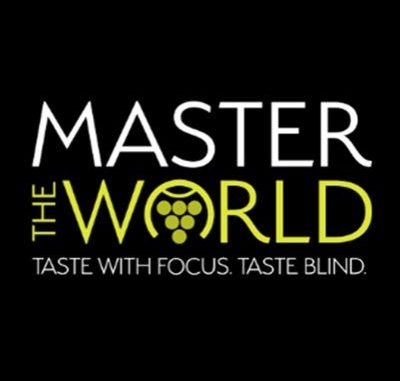 What do you think of when you think of Oregon wine? Probably Pinot Noir. You're not alone–it's certainly what I tend to think of. But this past week I had the opportunity to attend a virtual tasting of six Oregon wines and I have to say that it was eye-opening.
Master the World
Before we dive into the wines, I have to give a shoutout to Master the World. This is the second virtual tasting I've done where the wines were provided by Master the World, and I'm really loving the platform.
Instead of getting six full bottles to open you get 187ml bottles, perfect for tasting and then having a glass of your favorites (and yes, sharing with your wife if you're me). Pre-COVID I would have missed out on the large bottle format to share with friends, but having tried this format a few times now, I have to say that I'm already picking out which of my friends are getting a set for birthdays.
While I wasn't able to carve out time to do the blind tasting portion on the platform this time, having done it before I can say that it's humbling, but also forces you to really focus in on the wine when you don't have a label or tasting notes in front of you at first sip.
Alright, enough about the platform (I'm not a paid endorser of it; I just really dig it). Let's talk about the wines.
2018 Walter Scott Wines Seven Springs Chardonnay – $65
From the Eola-Amity Hills, the 2018 Walter Scott Seven Springs is 100% Chardonnay. A light straw color, I got soft, balanced aromas of lemon, butter, and oak. The wine has spent some time in oak, but on the palate it was crisp and refreshing, with flavors of lemon/lime, with hints of mineral and a bit of salinity. I really enjoyed this wine; it's food-friendly, but there's enough acid on it that I think I'd enjoy sipping on it on the patio on a warm day.
2019 David Hill Vineyards & Winery Winemaker's Cuvee Pinot Noir
You didn't think we'd do an Oregon wine tasting without a Pinot Noir, did you? From the Tualatin Hills, the 2019 David Hills Cuvee Pinot Noir is 100% Pinot aged for 15 months in 20% New French Oak. Bright ruby in color and with aromas of soft oak, spice, cherry, red berries, and floral notes, it was what I think of when imagining Oregon Pinot Noir without ever taking a sip. In the mouth the wine was bright and clean, with flavors of red berries, raspberry, and blueberry on the front and back, with some graphite in the middle, all giving way to some lingering floral notes on the finish. It was light and fruity, but with complexity that unpacked itself the more I sipped on it.
2018 Analemma Wines Mosier Hills Estate Grenache – $42
I'll be honest–I didn't know that Oregon grew Grenache. Apparently not only is Grenache grown in the state, but more than 80 varieties are grown in Oregon across 21 growing regions, 900 vineyards, and 1,300 wineries; and that's all in the last 60 years since the end of Prohibition.
The 2018 Analemma Grenache was a medium dark red in the glass, with orange hues around the edges. On the nose I got licorice, violets, cinnamon, and lavender. In the mouth I got flavors of strawberry and hints of cherry. The wine had good tannic structure on the finish, with just enough bite to make you want to pair it with food, but without getting in your face and demanding it; it was silky and feminine, and I really wanted to pair it with a juicy ribeye (others suggested lamb chops, which I think would also be a great pairing).
2013 Hillcrest Vineyards 'Old Stones' Malbec – $45
Remember what I said about the Grenache? Same goes for Malbec. I wasn't aware Oregon was growing the grape, and before you start to think about South America, I can tell you that it's very much not in that vein, having more in common with French Malbec than what's found to our south.
Deep ruby red with purple hues on the edges, and with aromas of tea leaves, raisins, blueberry, licorice, and cedar box as the wine opened, the 2013 Hillcrest Malbec blends fruity and earthy notes beautifully.
In the mouth I got flavors of brambly red fruit, blueberry, licorice, and some slate/mineral notes on the finish. It was dry without being arid, tannic without being overwhelming, showing elegance. This is definitely a food wine, and this was another where I wanted a ribeye off the grill to pair with it.
2015 Valcan Cellars Syrah – $30
I did know that Oregon grew Syrah, so we were back on track with this wine. While all of these wines were great representations of the grape and the regions they were grown in, this was easily my best value of the group; at $30 it's easily drinking like a wine $20-$30 more.
Bright and clear with ruby red colors, I got floral aromas of violets and lavender. In the mouth the wine was herbal, with flavors of thyme and tobacco leaf giving way to spices like clove with toast and a meaty smokiness that I associate with Syrah (in a good way). Like I said, this was my steal of the tasting, and I really enjoyed it. I'd love to pair it with some skirt steak shared with friends, and at that price it'd be easy to pick up several bottles to share.
2016 Rasa Vineyards Veritas Sequitur Syrah
We wrapped up the tasting with a truly impressive wine. If the Valcan Cellars Syrah was my steal of the tasting, the 2016 Veritas Sequitur Syrah from Rasa Vineyards was my best in show. Deep, semi-opaque ruby in the glass, I got aromas of salty olives, tomato leaf, sandalwood.
In the mouth the wine was earthy and decadent, with flavors of cedar box, forest floor, black pepper, and dry tea leaves. A combination of flavors I wasn't expecting but just wanted to keep sipping on, the flavors were perfectly balanced and layered, and the more I sipped on it the more it showed. I shared the tastings with my wife, but aside from a taste, I kept this one for myself (wine writers prerogative).
Wrap-Up
This was a great tasting. Special thanks to Master the World and the Oregon Wine Board for putting this together. If you have the chance to taste any of these wines I highly recommend that you take advantage of it, and if you're looking for a last minute birthday or Valentine's Day gift, you could do a lot worse than one of these tasting kits.