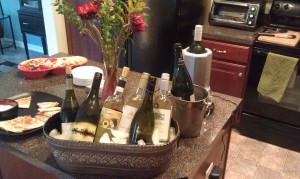 Well, the end of summer isn't that far away, so when I was recently sent a mixed case of summer white wines, it seemed a shame to sit on them and try to go through them each individually as I would have quickly run out of summer by the time I was able to get to them all. With that in mind I invited some friends over, opened up all the wines, and tasted them all at once, because let's be honest, that's what summer's really all about. Here's what I thought.
The first one I tasted was the 2010 La Fiera Pinot Grigio (SRP $8). I got mostly apples on both the nose and the palate with a nice lingering finish with just the right amount of acid. There was a slight hint of sweetness to my palate, but for being the first one I tried, it was a good start and it's a good value for these kinds of parties.
Next up were two from Tiamo. First was the Tiamo Prosecco (SRP $15) which had a hint of citrus on the nose with medium sized bubbles and a slight bit of yeast on the palate and a mix of crisp fruit. This was definitely not a super-dry Prosecco and it was quickly consumed by my friends.
The other was the 2010 Tiamo Pinot Grigio (SRP $12) which I found to have some citrus on the nose and apple and lime in the mouth. It was nice and crisp with just a hint of effervescence to me, a trait I find I enjoy this time of year.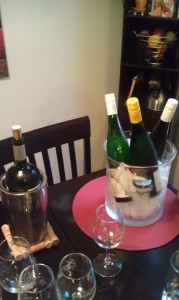 From Argentina I had some Santa Julia wines, starting with the 2010 Santa Julia Pinot Grigio (SRP $10), which had notes of tropical fruit and banana, which I think added a hint of sweetness on the finish of the wine.
Next was the 2010 Santa Julia Innovacion Torrontes Pinot Grigio (SRP $11). This was actually a 1L bottle and is a Whole Foods Exclusive "Summer Top 10 Wine" and was certainly one I was interested to try given my growing enjoyment of Torrontes. I got notes of orange peel on the nose and floral notes in the mouth with a slight almost petrol note. For the price this is a good value and an interesting combination (90% Torrontes/10% Pinot Grigio) that I think I'd like to see more of.
Finally from Santa Julia was the 2011 Santa Julia Organica Chardonnay (SRP $11), which is made from 100% organically grown Chardonnay grapes. On the nose I got green apple and pineapple, with the pineapple carrying through to the palate. There was a nice finish to it that was at once both crisp and long tasting. This is a stainless steel wine for those that have an aversion to oaked Chardonnay (you know who you are).
The first of three Rieslings that I had was the 2009 Dr. H. Thanisch Riesling Classic (SRP $18) which had a nice minerality with peaches, grapefruit, and a nice crisp, dry finish. There was a subtle sweetness to this one, which at least to my palate was the driest of the three and one I'd be interested to pair with some spicy Thai food.
Next was the 2009 Heinz Eifel "Shine" Riesling (SRP $10) which was slightly sweeter than the previous Riesling and had flavors of green apple. I could still probably drink this one with the right meal, but again I'd want some kind of spicy Asian cuisine to go with it and cut through the sweetness.
The final Riesling was the 2010 Dr. Pauly-Bergweiler Noble House Riesling (SRP $12). With an aroma of apple and honeysuckle, petrol, and some minerality in the mouth it was also the sweetest of the Rieslings and featured a lemon/sour note that wasn't off-putting, but neither was it great.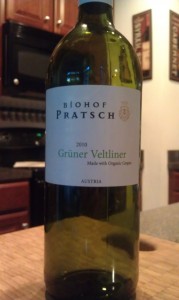 Up next was the 2010 Biohof Pratsch Gruner Veltliner (SRP $14). This was probably my favorite wine of the night and is a great value considering the bottle was 1L. Made from organic grapes, there was apple on the nose and a fresh, tangy dry minerality in the mouth with just a touch of white pepper. I kept going back to this one all night and was sad to see it gone.
The 2010 Fire Road Sauvignon Blanc (SRP $12) was one I had actually seen in stores a few times but never picked up. Might have to now. Aromas of gooseberry an herbal note were nice, but on the palate I was really intrigued with this wine that was nice a dry with flavors of stone fruit and what was debated as being either nettles, tomato vines, or just "green". Either way, I really liked this one.
The final wine of the night was the 2010 Saint Clair Vicar's Choice Sauvignon Blanc (SRP $16). Like the Fire Road, it was from New Zealand, and like the previous bottle it featured similar aromas with some grapefruit coming into the mix and some of the nettle/tomato vine/green. A touch of a mineral note on the palate was welcome as well.
All in all this was a great selection of wines. The Rieslings weren't terrible, even though when I first received the wines I'll admit I cringed at the sight of three German Rieslings – my memories of growing up in Germany tasting sickly sweet German Rieslings are hard to get over.
I really enjoyed the Gruner Veltliner, this being my first real experience with it, and the two New Zealand Sauvignon Blancs had intriguing aromas and flavors that make me want to see if this is something about that particular vintage in the region or just something those winemakers were doing.
There's not a single one of these wines that I would tell somebody to avoid like the plague, but if I had to pick one to buy it would be the Gruner Veltliner with the two Sauvignon Blancs closely following.