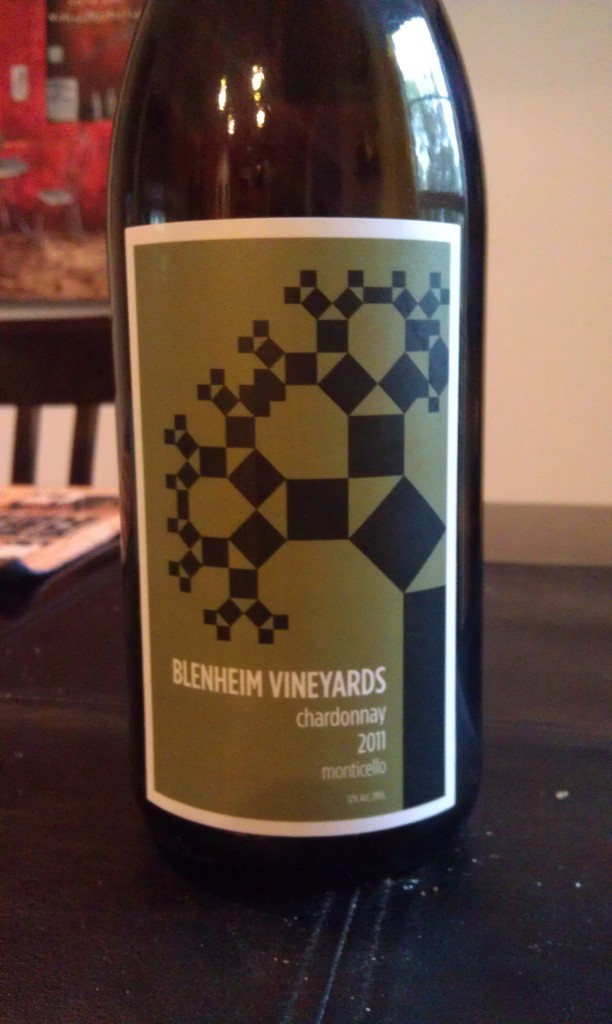 Varietal:Â  Chardonnay
Region:Â  Virginia
Cost:Â  $20
My Review:Â  If you noticed, a few weeks back my wife and I, along with my parents, spent a day out in Virginia wine country trying (and buying) some wines. Among our stops was Blenheim Vineyards, in part because it's a long-time favorite of mine, and also because my parents had never been to the actual winery. We came back with both their Cabernet Franc and their Chardonnay, and on a recent evening on the deck, my wife and I opened up one of those bottles of Chardonnay.
In the glass the wine has a nice golden color to it which can be associated with having spent some time in oak barrels. On the nose I got a subtle citrus and nutmeg note, while in the mouth I got vanilla and pineapple. The wine is crisp at the beginning, but has a nice subtle roundness to the finish thanks to the oak that I find very appealing – it's not overly oaked, but just enough to add some character to the wine.
Paired with a dinner of grilled chicken sliced and placed on top of a salad it was the perfect pairing, with just enough acid in the wine to pair with the meal, but not so much as to overwhelm it either. What I like so much about this wine is that while it pairs well with dinner thanks to having more than just one note, it's also great for sipping on the deck on a warm day since there is a crispness to it, and in fact I think I enjoyed just sipping on the wine while sitting on the deck as much as pairing it with dinner.
This is a great wine for anybody that doesn't particularly like oaked Chardonnay, but wants something more than the typical stainless steel Chardonnay. It's a great value, and one I recommend buying if you have the chance.