This past Tuesday I was lucky enough to be invited to a dinner here in Richmond at the Bolling Haxall House to show off Loudoun County's food, wine, and hospitality. For those not familiar with Loudoun County, it's referred to as DC's Wine Country, as it's about 20 minutes west of the District, and currently features 28 different vineyards and wineries, more than any other single county in the state of Virginia.
Before the dinner began, we were treated to hors d'oeuvres and a selection of wine including a Rose' from Chrysalis Vineyards (which I didn't sample), the Topiary from Boxwood Estate – a nice dry red, and the Jolie Blonde from Breaux Vineyards – a Seyval Blanc that was light and crisp and perfect for sipping before dinner.
The dinner was from Chef William Walden of the Goodstone Inn & Estate, and I just have to say that he was spectacular. If you were ever considering staying at the Goodstone and eating at his restaurant I feel confident in saying that you will enjoy yourself. Our first course was a Vicchyssoise of braised leak, garden potato, and sherry that was paired with a 2009 Chrysalis Vineyards Viognier. The wine had all the typical tropical and floral notes that I expect from a Virginia Viognier, but it also featured a nice roundness to the finish that I found very enjoyable and helped it from cutting through the richness of the dish too much. As somebody that drinks a lot of Viognier, especially during the summer months, this has quickly jumped onto my list of ones to keep on hand.
Our second course was a winter greens salad of organic lettuce, roasted beets, spiced pecans, champagne vinaigrette, and accoutrements paired with a 2009 Albarino from Chrysalis Vineyards. I'm not much of a salad eater (which my wife will attest to), but other than the beets, which I've never had a taste for, it was quite tasty, and the champagne vinaigrette was something I'd never had before and quite enjoyed. The Chrysalis Albarino was nice as well, with just a hint of sweetness that went well with the vinaigrette. I think what impressed me most about the wine was that I was unaware that anybody in Virginia was making an Albarino.
The third course was a palate cleanser of fresh raspberry sorbet. I like raspberry flavors so this was a win.
The fourth and main course was a domestic rack of lamb with a garlic parsley crust, tarragon jus, winter vegetables, and herbes de provence paired with a 2008 Boxwood Winery Topiary. The Topiary is a blend of 64% Cabernet Franc, 35% Merlot, and 1% Malbec. It was nice and bold and dry and the perfect compliment to what was, quite possibly, the most perfectly cooked piece of lamb I've ever enjoyed. I've tried cooking lamb at home and I've somewhat given up as I just can't cook it as well as somebody like Chef Walden.
The final course was a Belgian hot chocolate souffle with hot chocolate sauce to pour over it. To give you an idea of how amazing this was I should state that I am not a chocolate person. I don't crave chocolate, I don't buy chocolate, and don't typically order chocolate deserts. I destroyed this souffle. It was amazing and if somebody like me that isn't a big chocolate person  loved every indulgent and fattening second of this dessert, imagine what somebody that does actually love chocolate would do to it. Probably wouldn't be allowed in public.
Now, to really drive home what an amazing time I had, it should be noted that the only picture I have from Tuesday night (and I usually take lots of pictures at these events), is this one: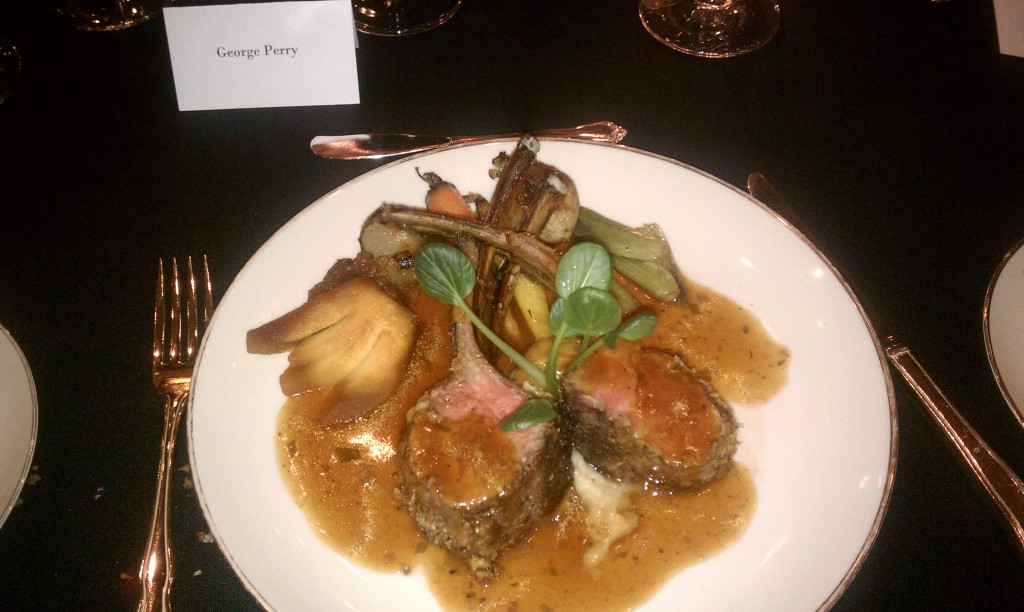 I want to give a special thanks to Visit Loudoun for putting on this event, it was amazing. To my table guests, including Alan Kinne, the winemaker at Chrysalis, and his wife – thanks for making our table the fun table. To Boxwood, Chrysalis, and Breuax vineyards for supplying wine for the dinner, thank you so much for spoiling us with a great selection of wines. And to the staff at the Bolling Haxall House – thank you for taking such good care of us.
If you're in Virginia and haven't been out to Loudoun County to visit their wineries (which I haven't either, a problem to be fixed sooner rather than later), I highly recommend it as they're putting out great wines and everybody I met from there was just incredibly friendly and welcoming. If you're not in Virginia…well you should come here and sample all of our wine regions, including Loudoun.