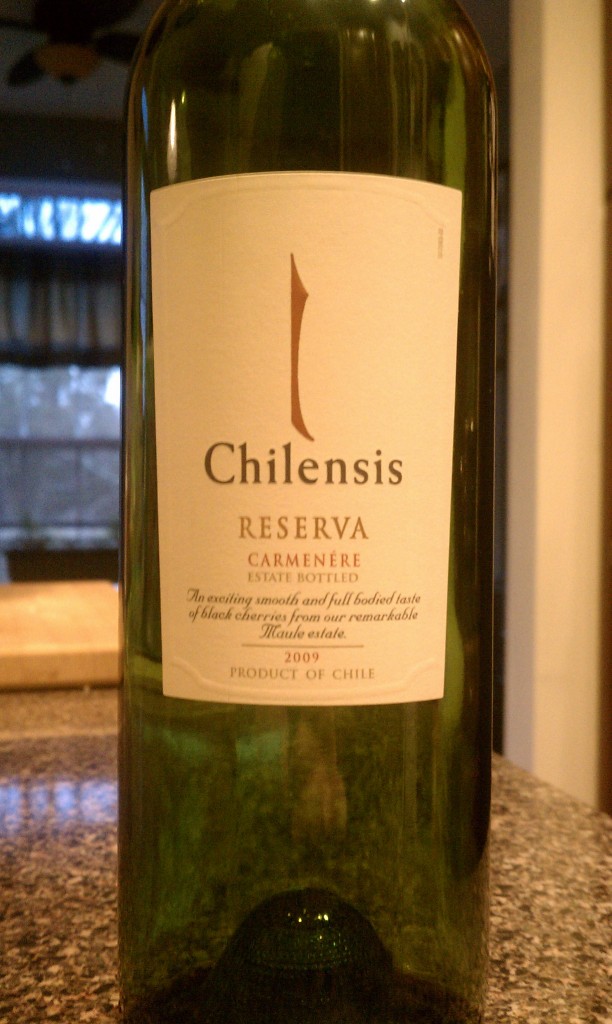 Varietal: 100% Carmenere
Region: Chile – Maule Valley
Cost: $10
Winemaker's Notes: Deep in color with aromas of cherry, plum, vanilla, and green pepper that lead through to the mouth. Pairs well with fresh cheeses, meats, and pasta dishes.
My Review: In case you haven't guessed by now, I'm a fan of Chilean wine. I think the vineyards and winemakers down there are doing great work coming up with great wines at an amazing cost to the consumer. While during the warmer months I usually turn to a Chilean Sauvignon Blanc for something to sip on, thanks to a wine tasting last year, I'm finding myself more and more drawn to Carmenere when I'm looking for a red. The flavors of green pepper and fruit are a great combination that's unique from most any other grape I've tried and one I find I like quite a bit.
Because of both mine and my wife's enjoyment for the wine, we try to keep a bottle of it on hand, and recently we had been keeping the Root:1 Carmenere in the house. However, on a recent trip the wine store, when we went to pick up a bottle of it, they were out. Not ones to be deterred from the wine we wanted, we decided to try another bottle of Carmenere, and grabbed the 2009 Chilensis Carmenere Reserva.
The wine itself is a deep red color with just a hint of violet running through it, the kind you really only notice when pouring and you get some bubbles on the edges of the glass. The aroma of cherry and green pepper were most noticeable to me, and carried through into the mouth, where the cherry lead the way and the green pepper finished out the wine with a nice, subtle finish.
Paired with a dinner of wheat penne in red sauce, it was a great compliment to the juiciness of the meal, adding a bit of dryness to it that was welcome, but not being so dry that you couldn't enjoy the wine without the food. For the price, this is a great wine to keep around the house thanks to the versatility, but also because it's different than the usual merlot/cabernet/syrah/shiraz wines you find as table wines (not that I'm demeaning those).
If you can't find this wine at your local wine store, you can follow this link and have it shipped to you, and if you haven't tried Carmenere before, this is a great one to get you started.