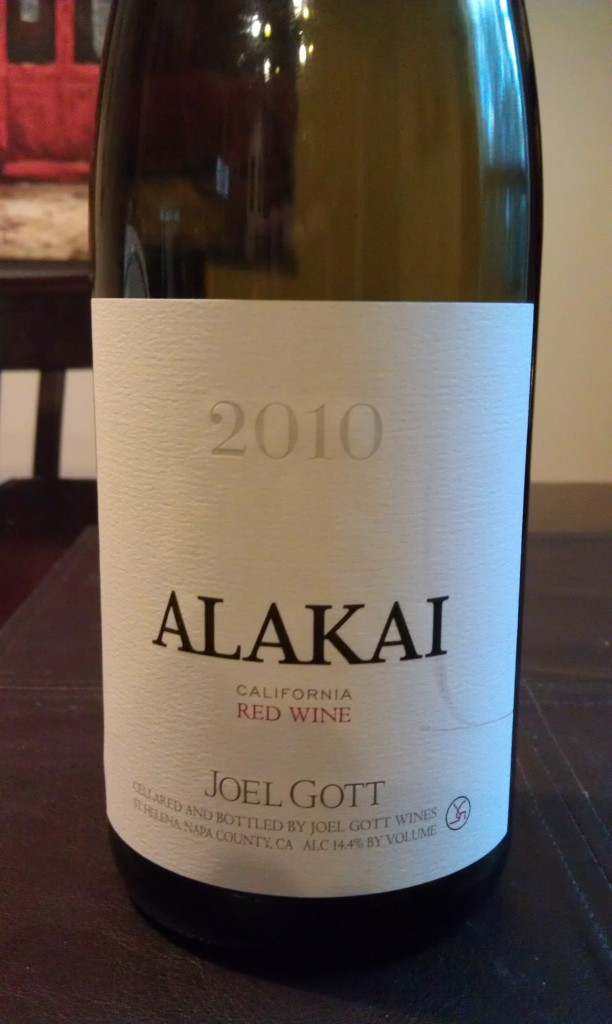 Varietal: Â 77% Grenache; 17% Syrah; 4% Mourvedre; 2% Petite Sirah
Region: Â California
Cost: Â $18 (SRP)
Winemaker's Notes: Â The 2010 Alakai from Joel Gott has aromas of raspberries, white pepper, cinnamon, and spice. Bright red fruit flavors are followed by a sweet fruit mid-palate and a smooth, seamless finish. The wine is balanced with good acidity and well-integrated oak.
My Review: Â I recently received a pack of three grenaches and when deciding which one to pair with dinner, my wife and I did the only responsible, scientific thing we could do – we shuffled the tasting notes and picked one at random. We make far too many choices in this manner. The winner, however, was the 2010 Joel Gott Alakai from California.
In the glass the wine was a deep reddish purple in color. I picked up aromas of raspberry and white pepper with just a hint of the spice, but none of the cinnamon that was mentioned in the tasting notes. In the mouth the raspberry continued as the most prominent note, though a general red fruit flavor was also present.
Paired with a dinner of beef stew that had been cooking away in the crock pot all afternoon, the semi-bright fruit flavors were a good contrast to the richness of the food. That being said, I was a bit underwhelmed by the wine. It's not that it was bad, it just didn't grab my attention.
Maybe the cost to impressed ration was just off. Maybe I just wanted to be in love with the wine. Maybe grapes that were blended in took something away from the Grenache (it's the only one of the 3 that's a blend for what it's worth). Either way, I don't know that I'd go out of my way to try this wine again. Would I turn down a glass of it at a party? Certainly not, like I said, it didn't do anything bad. I just don't know that I would buy a bottle of it.
Editor's Note:Â This bottle of wine was received as a free sample.
Update: Â I was contacted and informed that the list price I was given ($30) was incorrect. The above list price is correct. I like this wine a lot better at $18 than I did at $30 as the cost to impressed ratio is much more in line.