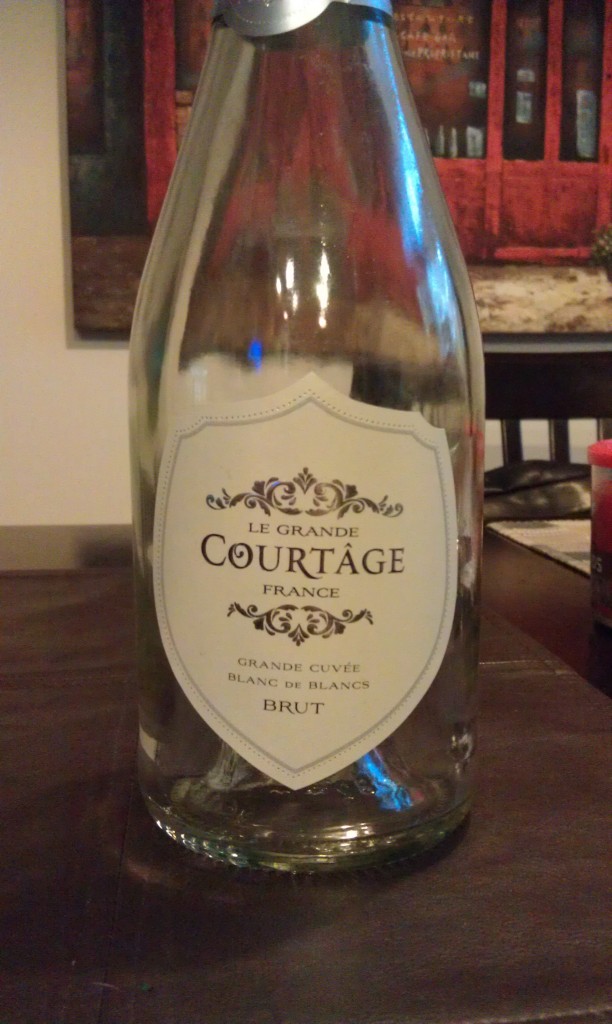 Varietal: Â Chardonnay, Chenin Blanc, Colombard, Ugni Blanc
Region: Â France
Cost: Â $20 (SRP)
Winemaker's Notes: Â Undertones of Granny Smith apples, honeysuckle, strawberry, and toasted brioche. Perfect balance of fruit, acidity, and sweetness. Lingers nicely with a bit of Meyer lemon, honeydew, and continuing apple finish. Great length, crisp and refreshing. Pairs well with savory hors d'oeuvres, buttered popcorn, creamy pasta dishes, spicy Asian dishes, seafood, fruit based desserts, or semi-soft cheese.
My Review: Â Last week I talked about the Le Grand Courtage Rose' Brut that I received as a sample, and this week we look at the other wine that came with it, the Blanc de Blanc Brut. After a long weekend of traveling, celebrating weddings, and spending time with friends, it was time to open up some wine. With my mother staying with my wife and I for a few nights while she was in town doing some work, I decided to open up the bottle of bubbles and toast the coming Monday.
I picked up the Granny Smith apples and honeysuckle on the nose, with the toasted brioche making itself known the more time I gave the wine in the glass. Sipping at the wine showed honeysuckle and lemon (whether it was Meyer or some other type of lemon is beyond me…I don't eat that many lemons), with a nice crispness that made it perfect for sipping while dinner was being cooked.
I'll admit that we didn't pair this wine with dinner, but I'd have liked to put it with either a cheese plate while a larger dinner was coming, or with a creamy pasta dish – I think the honeysuckle and lemon flavors would do a nice job of cutting back the creaminess of the dish for a nice pairing. Much like the Rose' Brut this wine didn't blow me away, but I definitely enjoyed it, and for the price point it's hard to argue against, and in fact my mother made a point of writing down the wine to try and buy later for enjoying at their house with a friend that drinks sparkling wine almost exclusively.
While the holidays are still a little ways out, this is one I can see myself revisiting for parties where I want to put out a sparkling that if not expensive, also isn't bargain basement pricing either. It's certainly one worth looking into, especially if you're a fan of sparkling wines and are looking for something new and affordable.
Editor's Note: I received this bottle of wine as a free sample.