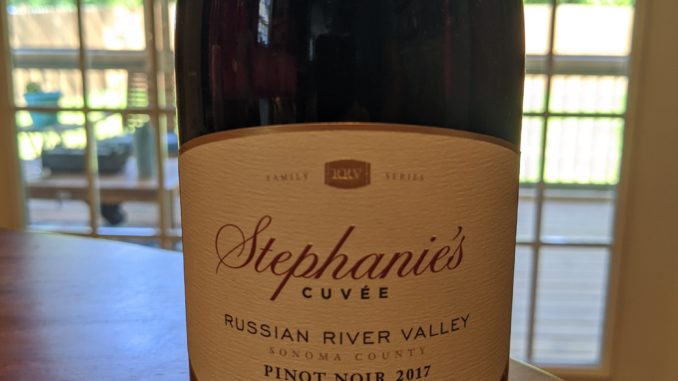 Variety: 100% Pinot Noir
Region: Russian River & Sonoma County; CA
Cost: $30 (SRP)
Winemaker's Notes: This elegantly smooth, yet complex Pinot Noir, has blueberry aromas and Bing cherry flavors. Subtle vanilla lingers on your palate for a delicate finish. Pairs well with braised lamb shank, grilled shrimp, and all salmon dishes.
My Review: I really enjoy Russian River pinot noir; years ago my wife and I had the chance to visit the region while staying in San Francisco, and it was easily some of the best wine I've tasted during a trip to the West Coast.
Given that my wife and I are home all the time (thanks Covid-19), we've been trying to be better about cooking things during the week that usually we'd only do during on a Saturday and Sunday because of the time commitment. Recently, that meant braising some beef short ribs, which of course called for some tasty wine to go with them.
So how did the wine hold up, and were the short ribs any good?
In the glass the wine was a light, garnet/ruby red color. On the nose I picked up aromas of blueberry most prominently, with a hint of bright cherry creeping in as the wine opened up.
In the mouth the wine was smooth, with a soft, delicate finish. I got flavors of vanilla and cherry, and while the nose needed a few minutes to open to get the full experience, at first sip this wine was fantastic.
Paired with the short ribs, the bright, light notes of the wine were perfect. We did the short ribs in a mushroom and red wine sauce (don't worry, not this wine) and served it over some creamy polenta, so we weren't lacking for richness in the food, and needed something light as a balance to it.
I really enjoyed this wine. It was silky and smooth, and while it paired fantastically with the food (I think it would be amazing with some salmon as well), it would be easy to just sip on a glass of this while spending time with friends (or by yourself–however you like to enjoy wine).
I think it's a good value at the price point, as I've had more expensive wines that didn't impress me as much; the 2017 River Road Stephanie's Cuvee Pinot Noir is punching above its weight, and that's a good thing.
Editor's Note: I received this wine as a free sample for review.