Over Memorial Day Weekend, my wife and I were in upstate New York for a wedding. On the Friday before the wedding my wife, being a bridesmaid in said wedding, had bridesmaid-y things to do, so I did what any responsible person does when left to their own devices – I went and tried some wine. I'd know this was coming up, so ahead of the trip I'd been in touch with Lenn Thompson of the New York Cork Report (http://www.newyorkcorkreport.com – it's good stuff people, you should read it), for some suggestions on where I should visit based on what direction I would be coming from. A list of potential stops in hand (along with address since we live in a digital age and I have a smartphone with a GPS), and I was on my way to my first stop of the day on Lake Cayuga.
Thirsty Owl Wine Company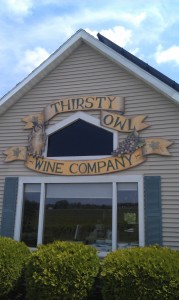 My first stop of the day couldn't have had a more picturesque view, so I was certainly encouraged for the rest of the day. I got there shortly after opening and was able to walk right up to the bar for a tasting with my trusty notebook in hand. A $3 tasting fee got my 5 wines to taste, though the girl behind the bar was kind enough to pour me an extra one when I couldn't make up my mind between two of them.
I started with the 2011 Chardonnay ($12), which is done in stainless steel. The wine was bright and crisp with good acid and a very subtle roundness to it. My wife is picky about her Chardonnay, not being a fan of heavily oaked chardonnay, and I almost purchased a bottle of this to bring back with me since I thought she would like it.
Next up was the 2011 Dry Riesling ($15). Lime and ginger were most notable for me and the wine was nice and dry with a good crispness with just a bit of the spicy minerality that was advertised in their tasting sheet. This would be a great deck wine, especially here in Virginia where we get very humid and something crisp like this is perfect for a hot day outside. It would also be great with some shellfish.
My last white was the 2011 Vidal Blanc ($12). Nectarine and peach flavors with a subtle sweetness make this another good deck wine or one that I would be interested to pair with some slightly spicy food, say some thai. Normally I shy away from sweet wines, but more and more I'm finding wines like this perfect pairings for the spicy meals that my wife and I enjoy making.
Switching over to the reds I started with the 201 Reserve Pinot Noir ($20). Strawberry, smoke, and bacon were most prominent for me and the wine was nice and light, a perfect hot weather red. This was a spectacular value of a wine, and I did in fact take a bottle with me to bring back to Virginia with me. I look forward to sharing it with my wife…maybe.
The next red was the 2008 Pinot Noir ($17). This one had more body than the 2010 Reserve, as was to be expected, and was a better food wine with a nice soft finish. I liked this one as well, and thought it to be a good value as well, though I didn't pick up one to take home with me. I was trying to pace my purchases.
The final wine I tried was the 2010 Thirsty Owl Meritage ($25). A blend of 26% Cabernet Sauvignon; 8% Merlot, and 66% Cabernet Franc, there was plenty of dark red fruit on the nose with a subtle bell pepper on in the mouth that the girl pouring to me attributed to the Cabernet Sauvignon, which nearly made me try that. This practically begs for a steak, and I in fact plan to pair the bottle of it that I bought with a steak when I decide to open it.
Thirsty Owl was a great way to start my tasting, and I highly recommend them to anybody in the area looking to do some wine tasting. They had great wines, great prices, a beautiful tasting room with great views and an incredibly friendly staff.
Hosmer Winery
Just down the street from Thirsty Owl is Hosmer, the next stop on my list and the last winery I would try on Lake Cayuga. Another $3 fee got me another five wines to taste (seriously, these guys are great about the value of their tastings for the fees), in a nice quiet tasting room.
I started with the 2009 Pinot Noir ($15) which I found to be light with flavors of cherry and cola and a hint of mineral at the end. I say the wine was light, but it wasn't too light, making it nice and flexible for both sipping by itself or pairing with food.
Next up was the 2009 Cabernet Franc ($18), as I couldn't pass up comparing some New York Cabernet Franc to what we grow in Virginia. It's much different. This Cab had soft bell pepper notes on the nose with a touch of black pepper in the mouth, but a bit more fruit and body to it than we usually grow in Virginia. I like both ways, and they definitely present different pairing options, which is always a good thing.
Next was the 2011 Chardonnay ($12), which is done in about 50% stainless steel. I got pineapple and crisp tropical flavors with a touch of effervescence on the finish. I thought my wife would like this wine, though I didn't grab a bottle, and it's a great price for a quality Chardonnay.
Next was the Dry Rose ($10), a new release that's 90% Cabernet Franc and 10% Chardonnay. It was a light pinkish-orange in the glass and had flavors of candied strawberry with a good crisp finish with just a hint of effervescence. This was another one I thought would be great on a hot summer day in Virginia, and in fact I bought a bottle of it to test that theory as we move more into June and July.
My final taste at Hosmer was the 2010 Dry Riesling ($15). Crisp lime flavors on this very light wine make it a great hot weather wine. A touch of effervescence (this was a theme at Hosmer) was welcome as well and made the wine quite refreshing.
Done with Lake Cayuga I jumped in my car and headed west to the eastern shore of Lake Senaca, which I realized later, my wife and I had driven up during out trip up to our hotel for the wedding. Had we not been on a time deadline we could have visited some of these places together.
Damiani Cellars
My first stop on Lake Seneca found some great wines to start in what was, at that point, the busiest tasting room I'd been in so far. I started off a tasting with the 2010 Chardonnay ($18) which had good tropical notes and a subtle oak with some apple and a hint of nuttiness that I enjoyed. This wine spent two months in oak and would be great with grilled chicken.
Next was the 2010 Sauvignon Blanc ($20) which featured a nose of tropical and banana notes, with plenty of banana in the mouth. This was much different than the South American Sauvignon Blanc that I have been drinking of late, but that's not necessarily a bad thing. I found it to be a good Chardonnay substitute in that it would probably suit those looking to avoid an oaked Chardonnay if that was the only thing available to them.
Moving away from the whites I sampled the 2010 Sunrise Hill Pinot Noir ($29). Good smoke and bacon in the mouth and on the nose with light soft tannins made me really enjoy this wine. In fact I liked it so much I purchased a bottle to bring home with me and enjoy again.
Next was the 2010 Vino Rosso ($12). This wine is, as advertised, a pizza/pasta wine. Nice and dry with dark fruit and a hint of bell pepper, I really enjoyed this wine and bought a bottle to bring home. I've actually given serious thought to buying a case of this to keep around as a red table wine, since it's certainly better than most cheap reds I'll grab at the store, and the price is hard to argue with.
Next was the 2009 Cabernet Franc ($22) which featured lots of fruit and pepper with a touch of acid. Again, this was more full-bodied than what we tend to make in Virginia, but I didn't dislike it and would enjoy pairing it with something off the grill.
Finally I sampled the 2010 Syrah ($27), which was loaded with dark fruit and was very juicy with a nice soft finish. Another good steak wine, and a good price point for a quality steak wine is always welcomed.
Grabbing my purchases it was off to my next stop.
Shalestone Vineyards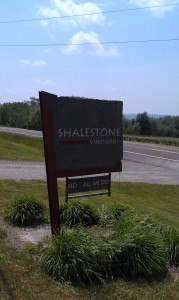 Shalestone Vineyards advertises themselves with "Red Is All We Do", and because of that they remind me a bit of Mountfair here in Virginia, which is not a bad comparison to make from my point of view. This was the busiest tasting room I visited all day, and in fact I actually had to wait a couple of minutes to get a spot at the bar, which gave me plenty of time to snap some photos.
I started with the 2010 Pinot Noir ($24), a light, hot weather red with flavors of cherry and cola and just a touch of pepper. Medium-soft tannins on the finish make it well suited to both pairing with food or just enjoying by itself.
Next was the NV Harmony ($18), a blend of 42% Cabernet Franc, 33% Merlot, and 25% Cabernet Sauvignon. A bit of bell pepper on the nose (which I know some people don't like, but I happen to enjoy), which continued through to the palate. This is totally a steak wine and one I purchased to bring home with me and pair it with just that.
Next was the 2009 Cabernet Franc ($18). There was a touch of alcohol on the nose for me, though it quickly went away. The wine featured soft red fruit (cherry and strawberry mostly), with soft tannins on the finish and a medium body. Again, this wine had more body than what we make in Virginia, though this was the closest I tasted to what we produce.
Next was the 2008 Cabernet Sauvignon ($25). A jammy nose with cherry and hints of cola and chocolate it's a big wine with good fruit that avoids falling into the trap of being "fruit forward".
Next up was the 2009 Synergy ($25), a blend of 43% Syrah, 28% Merlot, and 29% Cabernet Sauvignon. A smokey, bacon nose with dark cherry, chocolate, and earth notes in the mouth. I really liked this wine and regretted not buying a bottle of it later on, but it just means I'll have to go back or order some of it from their website.
Following that was the 2007 Reserve Cabernet Franc ($25). This wine was the total opposite of Virginia Cab Franc, with a jammy nose and lush red fruit in the mouth, mostly strawberry, that practically begged for some BBQ ribs.
Next was the NV Lemberghini ($18), a blend of 60% Lemberger, 20% Syrah, and 20% Merlot. A nice table wine with soft, jammy cherry notes that also walks the line between lots of fruit and being "fruit forward".
Finally I tried the Red Legend ($15), a blend of 56% Cabernet Franc, 20% Lemberger, 12% Syrah, and 12% Pinot Noir. The nose was all Cabernet Franc, with soft red fruit and a soft tannic finish. This was another pizza and pasta wine, and a good price for it as well.
Atwater Estate Vineyards
My final stop of the day proved to be my longest stop of the day, as the girl behind the bar was kind enough to let me sample the whole range of wines they had to offer. It's a good thing they had a spit bucket.
I started out with some Pinot Noir Bubble ($16), which had nice flavors of candied strawberry with a nice dry, crispness to it and medium bubbles. I enjoyed this and in fact took a bottle of it home with me.
Next up was the 2011 Pinot Gris ($16). White flowers on the nose with crisp citrus notes and some petrol notes, this is a total deck wine.
The 2010 Dry Riesling ($16) gave me subtle notes of lime on the nose and in the mouth. Clean is the best way to describe it and the crisp, refreshing flavors make this an excellent wine to sip on the deck.
The 2010 Gewurztraminer ($16) had a floral and petrol nose and was very dry. Pithy is the best word to describe this, and if that's not a flavor you enjoy you'll probably want to steer clear of this wine.
The NV Stone Bridge White ($10) is a blend of Vidal Blanc and Cayuga showed apricot in the mouth with a hint of sweetness and petrol on the finish. It's definitely a white table wine and will be versatile enough to go with a variety of "white wine foods".
The 2010 Riesling ($16) was crisp and tropical with a subtle citrus and petrol notes. I was fairly ambivalent about this wine, neither particularly liking or dislike it.
The NV Dry Rose' ($16) is made with Pinot Noir grapes and features candied fruit, raspberry, current and a medium-dry finish that makes this an excellent deck wine. I actually purchased a bottle of this to bring home and enjoy on my deck with my wife.
Moving fully into the reds I started with the NV Stone Bridge Red ($12), a blend of Cabernet Franc, Corot Noir, and Pinot Noir with a jammy, spice nose and cherry on the nose. This is a good table wine and would go great with some pork.
The 2009 Marechal Foch ($20) is a grape that I was unfamiliar with coming in, though is a red hybrid of French-American heritage. The wine was smoky with bacon on the nose and dark fruit and a touch of smoke on the palate. Ribs, stews, and chili would all be really good with this.
The 2009 Pinot Noir ($16) showed sandalwood on the nose with cherry in the mouth and a touch of tartness. The Atwater tasting notes recommend roasted mushrooms with this wine, but I really wanted some ribs with it, but I may have just been craving ribs. I did like this wine enough to bring home a bottle with me.
Next was the 2009 Meritage ($21), a blend of Cabernet Franc, Merlot, and Cabernet Sauvignon, with jammy flavors of cherry and cola that would pair well with ribs (I swear I ate lunch that day).
I moved next to the 2008 Cabernet Franc ($17). A medium-bodied wine with cherry flavors, and hints of smoke, bacon, and earth. This would be a good wine to relax with over a weekend with some friends and some cheeses.
The 2010 Big Blend ($18) mixes Cabernet Sauvignon, Syrah, Merlot, Cabernet Franc, and Lemberger into a steak wine featuring big dark fruit flavors with a bit of mocha added to the mix. This wine definitely lives up to the name and should be paired accordingly.
The 2009 Syrah ($25) featured dark fruit on the nose with some spice and in the mouth, more of the dark fruit and spice from the nose coupled with earth and a hint of cigar. All of these flavors combined well for a wine that would go great with stews, ribs, and really any grilled meat.
I finished off the tasting with a few of their sweeter wines, starting with the 2009 Sweet Riesling ($12). A petrol nose with some honey in the mouth, the wine manages to avoid being syrupy, which I appreciate, but it would still be a great pairing with some pound cake.
The Late Harvest Vingnoles ($16) showed honey and pineapple and was borderline syrupy. The nose of this wine reminded me of nothing so much as Welch's Grape Juice, and the wine itself was a good choice for either some sharp cheese or a rich dessert.
The 2010 Celsius ($25) is an ice style wine made with Riesling and showed honey and jasmine. I wanted to drizzle this wine over some pound cake and just enjoy it that way.
So Long…
All in all I had a great time in the Finger Lakes. All of the vineyards I visited were pouring some great wines, and there wasn't a one of them that I didn't find something I liked to bring home with me. I've already discussed a return trip with my wife so that we can spend more time visiting the tasting rooms together. If you're in the area and are looking for a good way to spend a day, or two or three, I definitely can recommend these places to try some wine and enjoy some spectacular views of the lakes as well.
Thanks to the staffs of all of these tastings rooms for being great, and thanks again to Lenn for the recommendations.