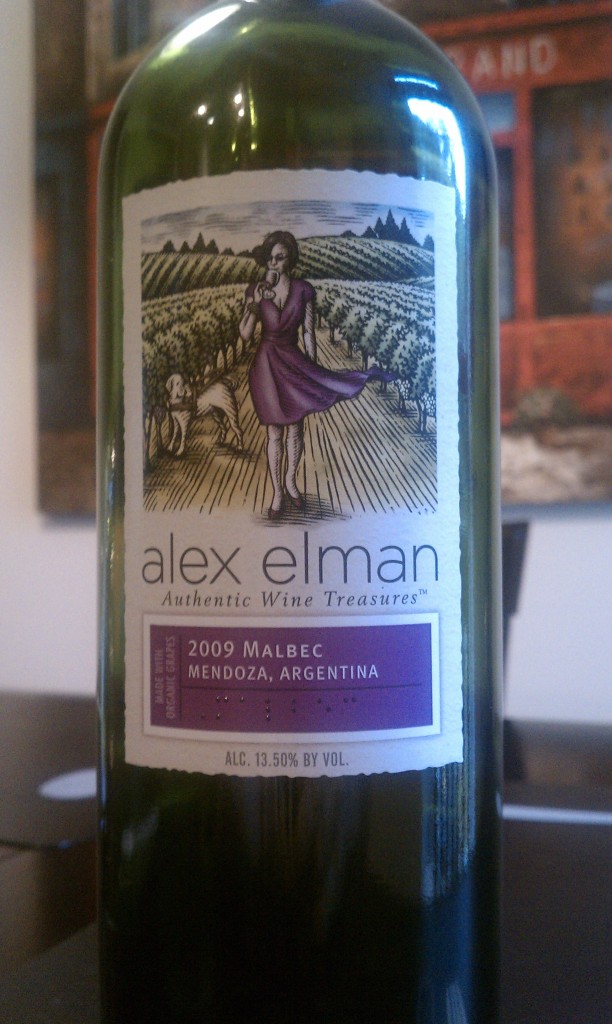 Varietal: 100% Malbec
Region: Argentina – Mendoza
Cost: $11
Winemaker's Notes: This unoaked, delicious, cozy, well-balanced Malbec is ruby in color and texture. Notes of cherry, candied apple and caramelized onion mingled with great tannins to make this a perfect wine for hearty stews, smoky mushrooms, spicy sauces, sausages, tomato based pastas and steaks.
My Review: You may (or may not) remember that a few months ago I reviewed the 2010 Alex Elman Torrontes and that I enjoyed it overall, but that it wasn't what I was expecting based on my experiences with Torrontes. Had I kept that in mind I probably would have been less surprised by the 2009 Alex Elman Malbec.
While I had received both the Alex Elman Torrontes and Malbec at the same time, it took me a while to get around to the Malbec, partly because I was waiting for more regularly warm weather to give it a chance at pairing it with some BBQ.
In the glass the wine was a deep red color and on the nose I got some bright cherry notes that I would expect from a Malbec; in the mouth, however, the wine was fairly different than I was expecting.
Maybe it's just the Malbec's that I've gotten used to, but this wine was much dryer than I was expecting, with none of the juiciness that I was anticipating and hoping to pair with some grilled chicken basted with BBQ sauce. While I got the typical flavors of a Malbec, cherry in particular, the wine was dry with good tannins on the finish and honestly made me feel like I was drinking a cabernet sauvignon instead of a Malbec.
That being said, my only complaint with this wine was my own fault in that I paired it with BBQ chicken instead of a steak or some pasta which I think would have been a better pairing with this particular wine.
If you want to try a Malbec that's different than others you've probably tried, the 2009 Alex Elman Malbec is a good value and Alex's story is certainly interesting if nothing else. If you can't find the wine at your local store you can follow this link and have it shipped to you directly.