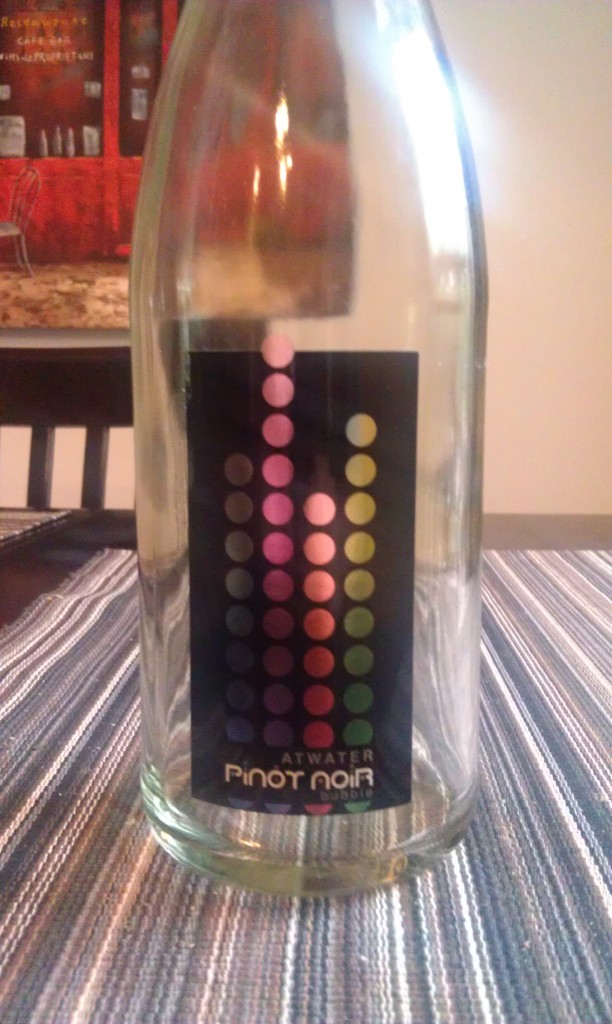 Varietal: Â 100% Pinot Noir
Region: Â Finger Lakes – New York
Cost: Â $16
Winemaker's Notes: Â This perfectly balanced rose' Pinot Noir bubbles forth with expressive notes of strawberry and a delicious dry, cranberry finish making an ideal wine for any rendezvous. Lightly effervescent, try with party hors d'oeuvres and seafood canapes. Also perfect with a cheese platter and fresh fruit.
My Review:Â One of the many bottles of wine that I brought back from the Finger Lakes, the Atwater Estate Vineyards Pinot Noir Bubble has been chilling in my fridge for a few weeks now, waiting to be opened and shared with my wife, who was, unfortunately, busy with wedding stuff over Memorial Day Weekend and couldn't join me in visiting vineyards. A Sunday of sitting at home, relaxing with my wife (and watching Portugal beat the Netherlands in the EuroCup!), called for some bubbles.
In the glass the wine is a dark pink, and on the nose I got mostly candied fruit – notably strawberry and cranberry. These flavors carried through to the palate and the small bubbles made the wine easy to sip on. We paired the wine with some baked brie topped with a balsamic and honey reduction and some crushed candied pecans, and the lightness of the wine was a nice contrast to the richness of the cheese.
I felt compelled to do a separate post about this wine, even though I brought it up in my overall review of my time in the Finger Lakes, because of the great value it poses. At $16 a bottle it's a great summer sipper that's perfect for enjoying with a light lunch on a weekend, out on the deck or patio in the heat, or even to celebrate. Rose' is one of my favorites to pull out in the summer, and a good, value sparkling rose' is a rare find indeed. Definitely one to buy if you're visiting them or to purchase from their online store.