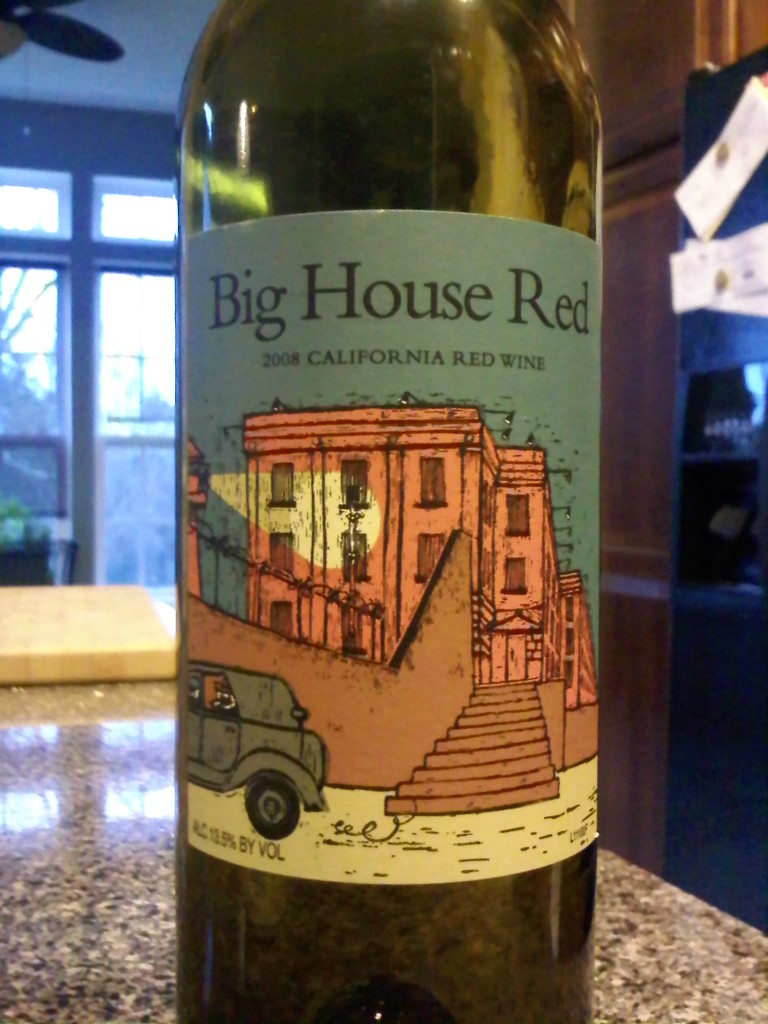 Varietal: Blended Red (Sangiovese, Syrah, Carignan, Barbera, Zinfandel, Mourvedre, Montepulciano, Petit Verdot, Tannat, Aglianico, Petite Sirah, Nero d'Avola, Grenache)
Region: California – USA
Cost: $7 – $10
Cherry, raspberry, blueberry, cassis, and chocolate flavors all blend together. Â Pair this wine with chicken, ground beef, pizza.
Recommendations: I'll be the first to admit, my wife and I first paid attention to this wine because of the bottle. Â We thought, if nothing else, it would look good over our cabinets (see my previous post if you haven't already). Â Having looked over the list of what was in the wine, we decided that the wine would go better with pizza, and so when we ordered a pizza one evening, we opened the bottle.
I wanted to like this wine, I really did. Â I'm a fan of most of the varietals that they used to blend it, and I'm a firm believer in table wines that aren't impressive, but aren't bad. Â Unfortunately, the Big House Red just left me shrugging. Â It wasn't terrible in a pour the bottle out kind of way, but it just didn't do anything to make me pay attention – good or bad.
Big House Red threw the entire kitchen sink into their wine, and while I did pick up some fruit flavors, mostly I just tasted…wine. Â With so much going on in the wine, nothing was able to stand out. Â I'd seen that in previous years this wine was quite good, and that in previous years they had put fewer varietals in the wine, and maybe that's what they need to do again.
An interesting bottle, but too much going on for any one thing to stand out. Â Not worth spending money on, even for the decorative bottle.