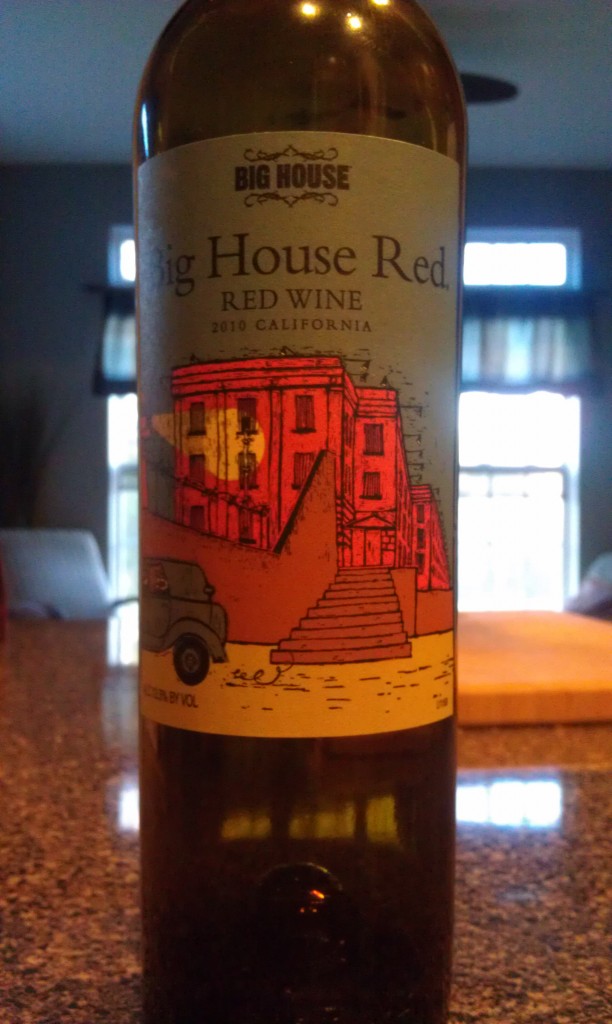 Varietal:Â  Petite Sirah; Tempranillo; Syrah; Grenache; Malbec; Mourvedre; Nebeillo; Tannat; Souzao; Aglianico; Barbera; Zinfandel; Petite Verdot; Cabernet Franc; Charbano; Nero d'Avola; Sanviovese; Sagrantino
Region:Â  California – USA
Cost:Â  $10 (SRP)
Winemaker's Notes:Â  This Big House Red lives up to that old Fruit Bomb moniker that you've come to expect. It starts with a nose full of blackberries and raspberries, with hints of leather and spices. The palate is clean, exhibiting flavors of cranberries, roses, and a touch of rhubarb. This finish lingers, with flavors of vanilla and a touch of dark cherries in the finish. Pairs well with all grilled meats, lasagna Bolognese, grilled vegetables, or even sashimi grade Ahi tuna.
My Review: Â The previous version of this wine was one of those that I was torn on. I liked what they were trying to do by creating a table wine with a little bit of everything that could then go with a little bit of everything, but I felt that the attempt created a wine that just fell flat. This vintage was different.
Now, to preface, I'm not saying that the 2010 Big House Red is some revolutionary wine, but I did like it better than the previous years bottles I had tried. They've changed the mixture some and I think it's for the best. On the nose I got mostly raspberry with a touch of spice and in the mouth I got dark cherry and some cranberry with a juiciness that made me feel like the Zinfandel as much as anything was coming through.
With a dinner of pizza after a trip the grocery store to stock up after the Thanksgiving holiday, a simple bottle of inexpensive red was a welcome sight and I continue to be a proponent of what Big House is doing – making nice affordable wines that might not set the world on fire, but are certainly welcome after a long day at work.