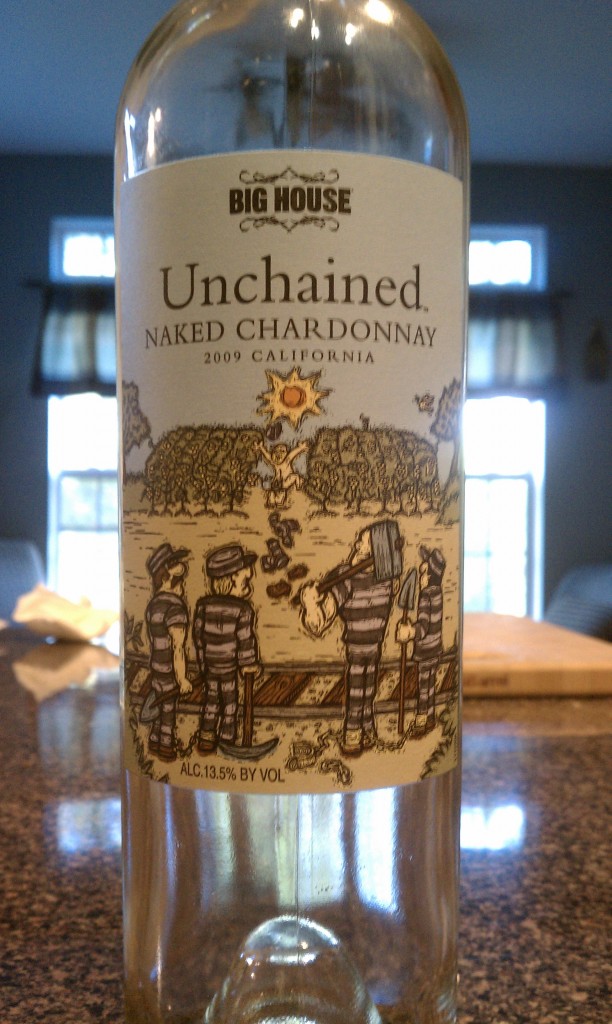 Varietal: 100% Chardonnay
Region: California – USA
Cost: $10 (SRP)
Winemaker's Notes: Picked at night or early in the morning, these grapes underwent fermentation in stainless steel tanks and were freed from the common secondary malolactic fermentation which is a frequent sentence for Californian Chardonnay. The result is a fresh and bright unoaked Chardonnay that is more reminiscent of an aromatic white that its namesake. Flavors of pear and green apple will pair well with braised scallops, pork tenderloin, roasted chicken, or fresh pasta with olive oil and basil.
My Review: When I was offered a sample of the 2009 Big House Unchained Naked Chardonnay I didn't even hesitate to say yes. I've had several Big House wines in the past and have mostly enjoyed them, and given my wife's preference for stainless steel Chardonnay, I take every opportunity I can to try one she might enjoy – I'm thoughtful that way.
Before talking about the wine, I want to continue to congratulate Big House Wines on having a sense of humor. There are plenty of bottles of stainless steel Chardonnay out there, but I think it's fair to say that if you were walking down the aisle at your local store, the 2009 Unchained Naked Chardonnay would jump out at you. Even the tasting notes they provide play into the whole idea of California Chardonnay being sentenced to oak barrels and that they're commuting this sentence. Good wine is great, but good wine with a sense of humor is even better. Alright, now on to the wine.
In the glass the wine was a light yellow color, and on the nose I got a general feeling of citrus – no particular citrus, just a general feeling of it. In the mouth I got notes of pear and pineapple, with a subtle hint of sweetness that certainly lives up to their claims of an "aromatic white" than your typical Chardonnay. Still, the finish was crisp and clean and there's no denying that this is a stainless steel Chardonnay as there was no hint of the buttery, oak finish that some people (such as my wife) just don't enjoy.
Paired with a dinner of pasta tossed with shrimp cooked in white wine (not the Big House), with a cream sauce made of feta and butter with some scallions and chives, it was a nice crisp note to the tanginess of the meal and easy to sip on even after dinner was over and my wife and I had moved downstairs to watch some evening television (How I Met Your Mother goes great with any wine really).
If you're not a fan of oaked Chardonnay, Big House has certainly done a good job of giving you an affordable option that is still interesting and, if nothing else, presents an interesting bottle to present at parties to amuse your friends. I appreciate that Big House held out as long as they could on creating a straight Chardonnay, but I also appreciate that when they finally broke down and did it, they made sure to do it their way.