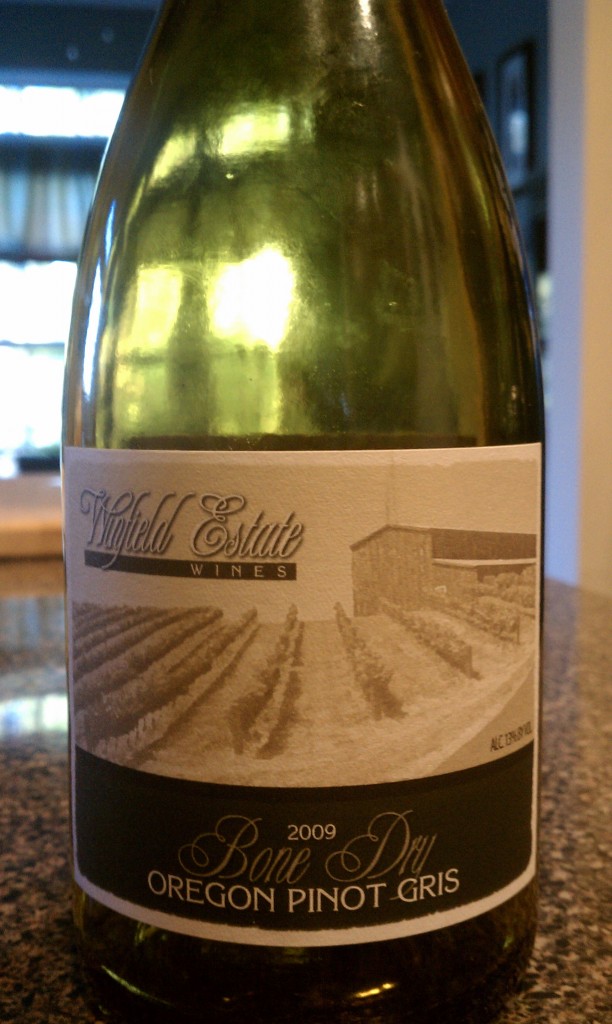 Varietal: 100% Pinot Gris
Region: Oregon – USA
Cost: $15
My Review: I don't drink too much Pinot Gris, so when the Good Works Wine Club included a bottle in a recent sample pack they sent to me I was certainly interested to try it. If you don't remember my previous mention of the Good Works Wine Club you can check out the details of their organization here, but the long and short of it is that they make charitable donations when you buy wine from them.
With Cinco de Mayo upon us, my wife and I decided to forgo the typical "Mexican" food that is prepared on this "holiday" and went with some tequila/lime chicken and homemade fried rice with bell peppers. Wanting something crisp and acidic to go with that, and not feeling like blending up some margaritas, I decided to open up the bottle of 2009 Winfield Estate Pinot Gris, wanting to see just how "bone dry" it really was. It was plenty dry.
Light in the glass, the nose was full of citrus that carried over to the palate. In the mouth the wine was light and crisp with lots of acid, though not enough to make your teeth hurt, and a lots of lime and a crisp finish that was a perfect pairing with our dinner.
If you've never had Pinot Gris, or at least not a dry one, the best comparison I can give to this wine is a South American Sauvignon Blanc with all the citrus that it brings along. The 2009 Winfield Estate "Bone Dry" Pinot Gris certainly had more acid, but if you're a fan of the Sauvignon Blanc from down south there's a good chance you'll want to at least give this wine a sporting chance, and like I've said before, there's charity involved so you can feel good about drinking it no matter what.