Sticking with my theme of not visiting places I've already been to, my wife and I spent our second day in wine country in Livermore, sampling wines and taking tours. The weather was beautiful and to anybody reading this that lives in Livermore, just let me say that I am jealous of your life.
Murrietta's Well
We started our morning at Murrietta's Well which features a beautiful tasting room just off the beaten path. All alone in the tasting room (we got there pretty much right at opening), my wife and I worked our way through the wines, finding some that we really enjoyed.
The 2008 Anniversary Blend ($50) is 63% Cabernet Sauvignon and 37% Tempranillo with a deep red color and notes of dark berry and clove with medium-soft tannins. This is a wine just crying out for a steak and definitely a nice bottle to look at if you're planning for a fancy steak dinner.
The 2009 Touriga Francesca ($34) is 75% Touriga, 17% Souzao, and 8% Barbera with a nice oak and berry nose and soft tannins. In the mouth the wine was full of berry without being too fruit forward, a quality that I enjoyed so much that I purchased a bottle to be enjoyed later.
The 2008 Petit Verdot ($30) is made from 100% PV with sage and licorice on the nose and dark cherry in the mouth with a smoke finish. I really liked this wine, and would recommend it to anybody looking for a good Petit Verdot. I think the only reason I didn't buy this wine is the large number of PV bottles at my house given that I live in Virginia.
The 2010 "The Whip" ($20) is a great summer white, with a blend of 31% Sauvignon Blanc; 27% Viognier; 15% Semillon; 11% Pinot Blanc; 8% Orange Muscat; and 8% Muscat Canelli. Crisp citrus and just a hint of sweetness made this nice and refreshing and a great value.
The 2008 "The Spur" (%25) is a nice approachable red with a blend of 54% Cabernet Sauvignon; 23% Petit Verdot; 10% Petite Sirah; 9% Cabernet Franc; and 4% Malbec. Berry flavors with a surprisingly dry finish make this also a great value and a good selection for a slightly above-board table wine.
Both The Whip and The Spur should be available in local stores, while the rest of their selection is sold out of the actual tasting room, meaning if you want them, you have to visit them.
Retzlaff Wines
There are small vineyards, tiny vineyards, and then there's Retzlaff Wines. Now, before I get a half-angry, half-PR email or comment from somebody there, let me qualify that by saying that I loved the small tasting room and clearly family-run business that is Retzlaff Wines. It was charming and my wife and I really enjoyed our time there where they happened to be pouring some pretty nice wines.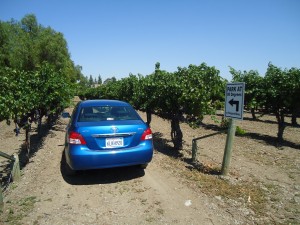 The 2009 Estate Sauvignon Blanc ($23) is a blend of 80% Sauvignon Blanc and 20% Semillon with light grapefruit and general citrus notes that was a nice way to start our tasting in the heat of Livermore Valley (it was in the 90's that day).
The 2010 Isabella's Blush ($15) is a dry rose' made from Cabernet Sauvignon grapes with flavors of berry and strawberry and featured just a hint of effervescence at the end. Rose' has grown on me more and more as I try it, and this is a great value for a good one.
The 2003 Estate Cabernet Sauvignon ($18.50) has a robust nose with a hint of mocha that led to a brighter mouth than I was expecting. Still, this one was very good, and I got a really good deal on the bottle since they're trying to clear out the 2003 so that they can release the 2004, so get it while you can.
The 2004 Estate Blend ($39) is 60% Cabernet Sauvignon and 40% Merlot with raspberry and green pepper on the nose. This wine was excellent and I gave serious consideration to bringing a bottle of it home with me, but my suitcase was quickly filling up.
Steven Kent/La Rochelle (The Barrel Room)
The next stop on our adventure was The Barrel Room, where you can taste both Steven Kent and La Rochelle wines in one location. It saves on the driving. Selecting a flight of each to share, my wife and I settled inside the dark tasting room and tried to pick out our favorites.
The La Rochelle 2010 Pinot Noir Rose' ($22) was nice and dry with a slightly tangy finish. A great value with just the right amount of fruit and crispness, it just reminded me of why I've been on such a rose' kick as of late.
The Steven Kent 2008 Cabernet Sauvignon ($45) had a big, musty nose and was dry in the mouth with dark fruit flavors and a soft finish. There's something to be said for a nice dry red wine, and this one certainly delivers on that.
Finally, the La Rochelle 2008 Sonoma Coast Pinot Noir ($42) had a light pepper nose and was bright and dry in the mouth with remaining light with good berry notes that you would expect from a Sonoma Pinot. This was a very good wine and possibly my favorite of the stop.
Concannon Vineyards
If you've visited this site enough you've seen me review several Concannon wines over the years, so during this trip I made a special plan to visit the vineyard and was even able to meet Jim Concannon. I won't go into the wines we tried because I've written about them previously, though I will say that they continue to impress. Instead, an overview of the time at Concannon.
First of all, Jim Concannon is just great. He clearly loves what he does, and his stories about the vineyard, his family, and the wine industry in California are just great. I'd be remiss if I didn't mention that my wife just wanted to kidnap him and bring him home with us. She thought he was adorable.
Jim was kind enough to show us around the grounds, including showing us the barrel rooms, an old press used to make the wine, the bottling room which was actively bottling and really only requires a few people to operate, and even showed us the science room (which my wife, a forensic scientist loved), where they check things like residual sugar to ensure that the wine is exactly what they're looking for.
My time at Concannon was great, and I absolutely recommend stopping in to visit if you're in the area as their tasting room is beautiful and they also have the Underdog Wine Bar, which we didn't stop at, but looked like a good place to grab some wine and a bite to eat while in wine country.
McGrail Vineyards
Just up the road from Concannon was McGrail Vineyards, which has a beautiful view from the rise they sit on and a nice comfortable tasting room complete with a patio that's perfect for enjoying a glass of wine.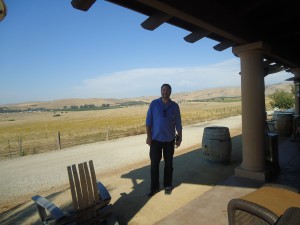 The 2009 Casa de Vina Petite Sirah ($29) was smooth with a dark cherry nose and was easily my favorite of the tasting and a good value for a quality Petite Sirah.
The 2007 Cabernet Sauvignon "Graduate" ($38) featured a nose of dark fruit with notes of leather and was dry with black cherry notes that did a good job of hitting you right in the back of the jaw.
So Long and Thanks for All the Wine
I had a great time on both of my days in wine country, and if you're debating whether to visit Russian River or Livermore, I say take two days and do both. The staffs at all of the tasting rooms we visited were amazing – friendly, welcoming, and knowledgeable, something that I really appreciate when standing at a counter tasting wines.
Livermore Valley is absolutely beautiful, and I want to extend an extra thanks to Jim Concannon for taking time out of his busy schedule to show my wife and I around. I can't wait to head back to the west coast and spend more time hitting up tasting rooms and seeing what great wines are being offered.