While my wife and I are back from our vacation to San Francisco, I'm just now getting around to writing about our trip, mostly because we were having so much fun I didn't have time to sit down and write. Â Fortunately, I take good notes.
While we spent the first three days in the city, on Tuesday we finally ventured out to wine country, starting off with Napa. Â The drive out there was beautiful, much like the weather we had the entire time we were on the West Coast (much to the chagrin of all of our friends back home on the East Coast).
Our first start was Trefethen Family Vineyards where we tried four different wines.  Their 2007 Chardonnay  was nice and light and very refreshing, with flavors of apple pie and a nice crisp finish.  After that we tried their 2006 Cabernet Franc, which I found to be much smoother than the Cabernet Franc that we have in Virginia, with silky tannins following hints of white pepper and chocolate covered cherries.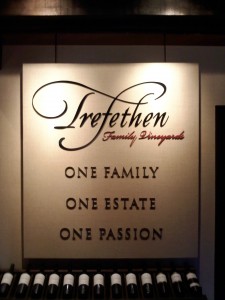 Our third taste was their 2006 Double T Red Wine, a Bordeaux blend made from Cabernet Sauvignon, Merlot, Cabernet Franc, Petit Verdot, and Malbec. Â This wine had a great body and my wife and I actually bought a bottle to bring back to Virginia with us.
Our final tasting was a 2005 Cabernet Sauvignon with a deep ruby color. Â Very smooth with black cherry and chocolate on the palate, it wasn't at all fruity as April and I were expecting, a trend we noticed on all of the Cabernets we tasted.
Done with Trefethen, we moved on to Clos du Val just up the road. Â Inside their tasting room we were greeted by a nice elderly man who soon had us tasting wine.
Our first taste was a white wine. Â Ariadne is a blend of Semilla and Sauvignon Blanc (68%/32%) with flavors of white peach, fresh melon, and toast. Â A nice acidity and no residual sugar make this a very refreshing wine that's perfect for a day out on the patio or deck. Â April and I purchased a bottle of this to enjoy outside at Clos du Val for just that purpose and I certainly recommend it for others.
Next we sampled a 2007 Chardonnay that featured aromas of pear, white peach, and citrus, which shows back up on the palate, along with some butter thanks to 10 months in French Oak barrels, which also adds to the golden color of the wine.
Moving over to reds, we started with a 2007 Pinot Noir. Â Deep red color with a hint of purple, I very much enjoyed this Pinot, with silky smooth flavors of spice and black cherry to match aromas of strawberry and raspberry.
Next up was a 2006 Merlot. Â While not usually a big Merlot drinker, this one was actually enjoyable. Â Aromas of black fruit and black olive lead into an earthy red wine that offers flavors of spice and toast.
Finally we sampled a 2006 Cabernet Sauvignon. Â Aromas of black currant and spice lead into another Cabernet that wasn't at all fruit forward as I was expecting, instead featuring flavors of black fruit, spice, and dried herbs.
After enjoying a bottle of Ariadne outside with a light snack, my wife and I moved just down the road to Stag's Leap Wine Cellars.
We started with the 2007 Sauvignon Blanc that featured flavors and aromas of ruby red grapefruit, mango, peach, nectarine, and guava. Â A very citrusy white wine that I found very enjoyable.
The 2007 Karia Chardonnay had butter on the nose, but was a very mellow white with subtle roasted almond and vanilla cream flavors, and aromas of apple and white peach.
The 2006 Merlot was excellent. Â With aromas that reminded me of Cabernet Franc more than anything, spice and cinnamon on the palate, and cherry and plum on the nose. Â Very enjoyable even for somebody that isn't a big Merlot drinker.
The 2006 Artemis Cabernet Sauvignon (featuring 8% Merlot) offers aromas of black fruit, primarily plum, and flavors of nutmeg, and especially rosemary.
The 2005 Fay Cabernet Sauvignon is 100% Cabernet that spent 24 months in French Oak offered aromas of violet, blackberry, nutmeg, and black licorice. Â Flavors of chocolate, vanilla, and tobacco round out this wine that beat the French in a blind competition.
The 2005 S.L.V Cabernet Sauvignon offered earthy hints of black truffle on the nose with flavors of dark cherry and a smokiness that makes this a truly great steak wine.
Finally, the 2005 Cask23 Cabernet Sauvignon. Â Aromas of black fruit and cigar box make this great on the nose, and flavors of clove, spice, and allspice make it great on the palate.
Regretfully leaving Stag's Leap, April and I moved on to Folie a Deux before stopping for lunch. Â A man cannot live on wine alone.
Folie a Deux (the makers of the Menage a Trois line of wines) started us off with a 2008 Chardonnay that was light with only a slight butter flavor, as it had spent only 7 months in French Oak.
Their 2007 Pinot Noir was very fruit forward and smooth, whereas their 2006 Cabernet Sauvignon was earthy and bold.
The 2007 Carneros Syrah from Folie a Deux had an excellent nose with tannins on the finish that made this a great pizza wine. Â The 2006 Zinfandel was very light in color and was very smooth for a Zinfandel, showing very little light pepper.
Finally, the 2006 Napa Zinfandel. Â Much darker than the first Zinfandel we tried and with more pepper, but still retaining the smoothness of the first.
After a stop for lunch, April and I moved on to the winery that she had been looking forward to all day, thanks to a recommendation from her sister-in-law.
Frog's Leap Winery is a little bit off the path, but totally worth the stop. Â The wine flight they offered as a tasting started with a 2007 Sauvignon Blanc with lots of grapefruit on the nose and flavors of white peach. Â Very light and refreshing and a great wine for enjoying with seafood or spiced white meat.
Next was a 2007 Zinfandel with a jammy nose and flavors of cherry, clove, and allspice after spending 12 months in American Oak.
The 2006 Merlot spent 18 months in seasoned French and American oak. Â Earthy with flavors of currants and dried herbs
Finally was the 2006 Rutherford, which spent 24 months in seasoned French oak. Â A rich nose with black olive and flavors of earth and a slight brininess that reminded me of black olive. Â I almost bought this one and would recommend it to anybody.
Our final stop of the day was Peju. Â A beautiful tasting room was the perfect setting to finish our day with some great wine. Â Their 2008 Chardonnay had a bit of butter both on the nose and the palate and featured a mild acidity that made it very enjoyable.
The 2008 Sauvignon Blanc had a lot of citrus on the nose with melon flavors that were very light and refreshing, which is what I love about Sauvignon Blanc.
The Provence was dark pink, being a blend of Cabernet Sauvignon, Zinfandel, and Chardonnay. Â An excellent mix of sweet and dry, I actually bought a bottle of this to bring home, very unusual for me given my typical feelings towards pink wines.
The 2005 Cabernet Sauvignon was had medium-dark coloring with a nice tannic structure, smooth flavors, and a slightly smoky finish.
We finished off our day with two Cabernet Francs. Â The first, a 2006 Cabernet Franc was medium-dark, much different than those we get in Virginia, and was very dry, but still milder than what we grow here at home. Â The second Cabernet, a 2005 Cabernet Franc Reserve featured pepper on the nose and was very dry and enjoyable.
Our day in Napa complete, we headed back to the city to recover before heading out to Sonoma the next day (which will be written up soon, I promise). Â I had a great time at all of the wineries and vineyards and recommend that anybody out there visit any and all of them.
While spending time in San Francisco had already made me want to move out to the West Coast, my time in Napa only solidified this. Â Damn you Napa.