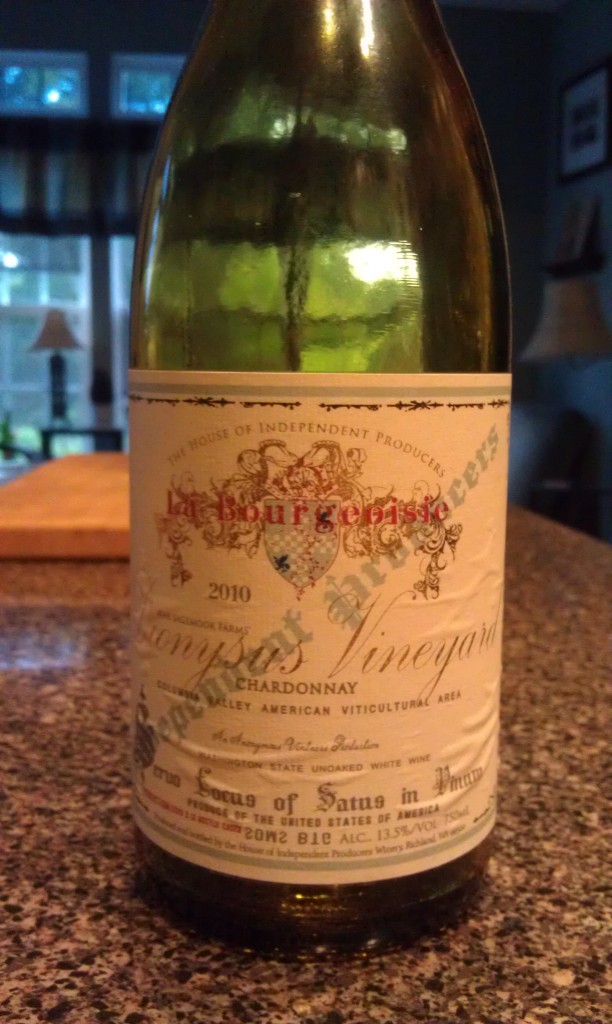 Varietal:Â  100% Chardonnay
Region:Â  Columbia Valley – Washington
Cost:Â  $14 (SRP)
Winemaker's Notes:Â  Intense northern latitude west coast style. Angular, sharp, and grown for food consumption. Apple, flint, citrus, and stone define the palette. A classic north west style.
My Review:Â  As you'll recall, when I had the 2009 Sauvignon Blanc from the Hedges Family, I didn't hate it, but I also wasn't in love with it. Because of that, as I was opening up the 2010 Chardonnay, I was, understandably, a bit apprehensive. I've enjoyed their reds so far, so I kinda wanted to enjoy the whites as well. I shouldn't have been worried.
The wine is unoaked, but that doesn't mean there wasn't any body to it. Still, the nice crisp finish that you would expect from an unoaked Chardonnay was there, with the flavors of apple and flint really coming through in a way that I quite enjoyed.
Paired with a dinner of salmon and orzo pasta it was a great pairing, with the acid of the wine cutting through the fat of the fish beautifully. Of the two whites I've had from this producer, the Chardonnay was by far the one I preferred, and one I would definitely consider picking up if I came across it in the store. Given my wife's….distaste for oaked Chardonnay, this was a great wine as it was unoaked for her, but still had some body and roundness to it for me.
I would definitely recommend this wine and you can even have it sent to you by visiting the Hedges Family Estates website if you can't find it at your local store.