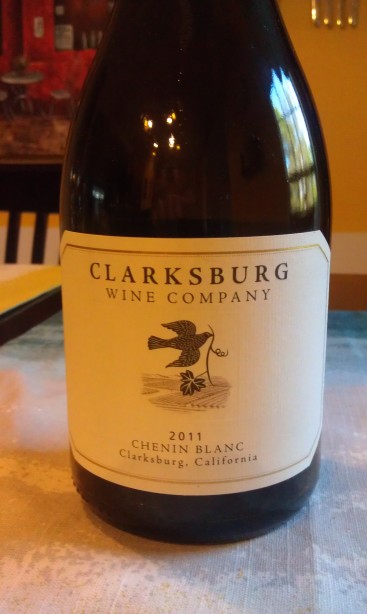 Varietal: Â Chenin Blanc
Region: Â Clarksburg, California – USA
Cost: Â $16 (SRP)
Winemaker's Notes: Â This wine opens with a melange of fruit on the nose. Initial hints of melon, juicy pear, and apple morph into honey and candied peach. Intermingling with the fruit profile is an elegant wisp of floral character that resembles apple blossom. On the palate, this wine is rich and luxuriant with luscious nectarine and white peach flavors. A strong burst of minerality drives this wine through a clean citrus finish.
My Review: Â I was eager to try this wine after having tried the 2011 Clarksburg Wine Company Chenin Viognier, as I wanted to compare the blend to the straight varietal. In the glass the wine was light, being a pale yellow in color. On the nose I picked up apple and floral notes, but they were both subtle.
In the mouth the wine was crisp, with good notes of citrus and acid, though the acid wasn't overwhelming, which was nice. On the finish there was minerality and a nice crispness that I enjoyed quite a bit. Paired with a dinner of tilapia with pesto the wine did a good job of providing a crisp, clean note to counter the fish, and probably would have worked even better if paired with a fish that had more fat.
Compared to the Chenin Viognier I found the wine to be a bit more crisp and minerally, but given how dominant the Chenin Blanc was in the blend, there wasn't a dramatic difference. That being said, I enjoyed both wines, and given the warming weather we're seeing here in Virginia, crisp white wines are always a great find.
Editor's Note: I received this wine as a free sample for review.