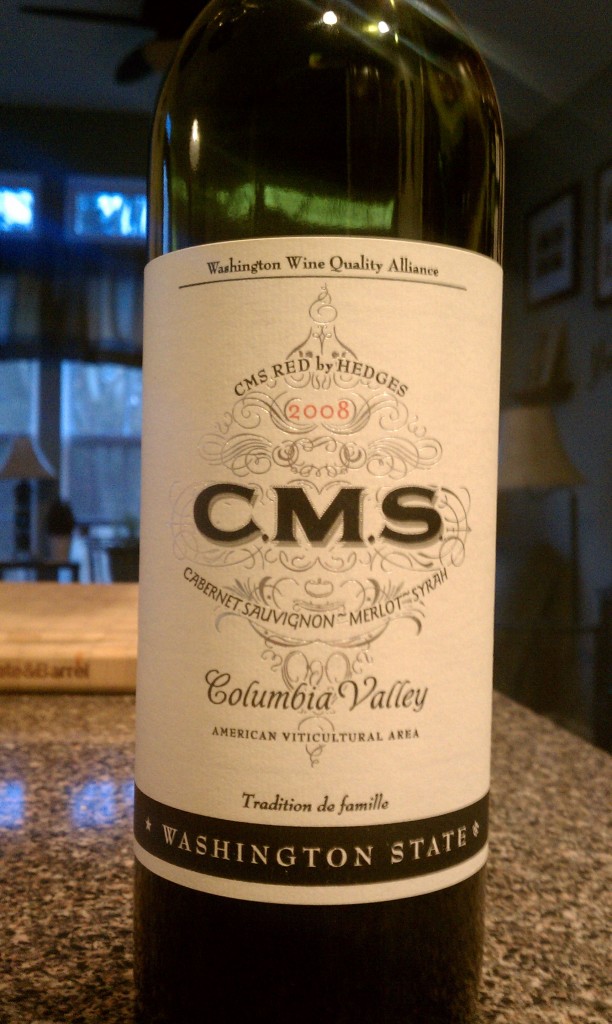 Varietal: Blended Red (48% Merlot; 46% Cabernet Sauvignon; 6% Syrah)
Region: Washington State – Columbia Valley – USA
Cost: $16
Deep red in the glass with black cherry and licorice on the palate with a finish of dried herbs and mineral notes. Â  Pairs well with a wide variety of dishes, including pizzas, pasta dishes, meat dishes, and cheese platters.
Recommendations: The first wine review of 2011. Â Feels good to get back into the swing of things after a busy holiday season. Â After a busy first day back at work from the New Years weekend, I was desperately in need of a drink when I got home, and while my wife cooked up an easy dinner of baked pasta with meatballs, I decided to open a bottle of wine.
My wife had bought the bottle of C.M.S. Red several weeks before from our local wine shop while out doing some Christmas shopping for me, and after a rough start to the week, it looked great. Â The wine was a deep red with hints of brown (I hate using that descriptor, but it's the best I've got) and while I didn't get much on the nose, there were hints of cherry.
On the palate I definitely got the black cherry and dried herbs and just a bit of the mineral on the finish as the wine had a bit of time to open up in my glass. Â I didn't get any of the licorice, but given as I'm not a huge fan of licorice, that's actually a good thing in my book. Â Paired with the dinner it was a good pairing and held up well against the sauce, meat, and baked cheese flavors.
While the 2008 CMS Red doesn't do anything that really makes it stand out, it's also a very versatile wine and that alone makes it worth picking up. Â For the price point it's hard to find a wine that goes with such a wide variety of foods as the flavors aren't so bold as to demand a particular meal pairing. Â If you come across this wine in your local store I definitely recommend giving it a try, and if you can't find it and want to give it a try, you can order it by clicking on this link and having it shipped to your home.