So I know there were plenty of websites and blogs just like this one giving advice on what to drink during your holiday dinner plans. Â However, I wanted to share with you what I opened up for my family on Christmas day to enjoy with my wife, my parents, and my in-laws.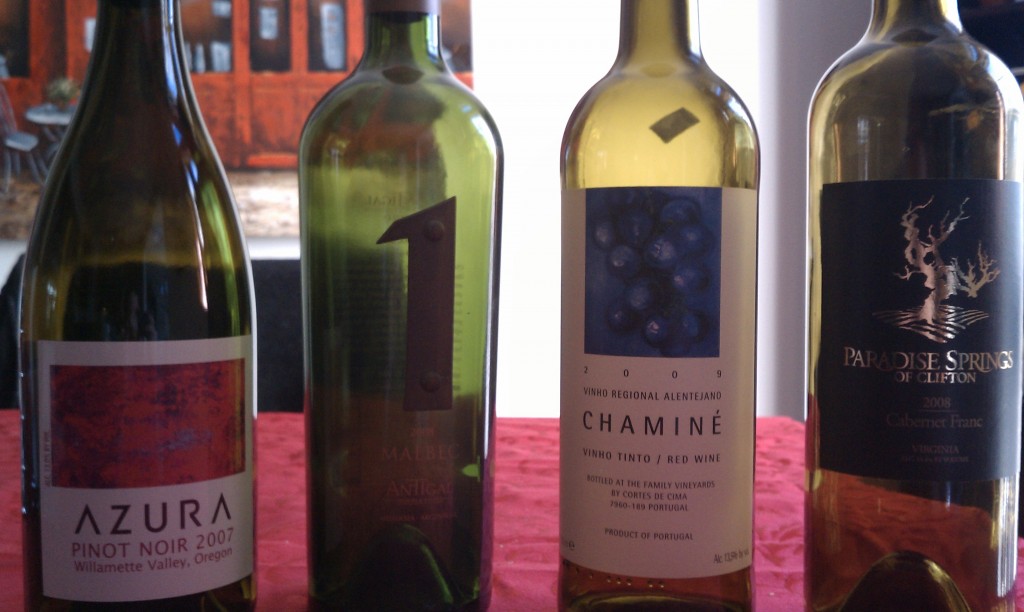 We started out with the 2008 Antigal UNO Malbec (second bottle from the left), a great malbec full of bright fruit flavors and that I look forward to reviewing later by itself (I have another bottle for that). Â Next up was the Paradise Springs Cabernet Franc. Â I had visited Paradise Springs Winery here in Virginia some months back and really enjoyed this light, peppery wine.
The third wine opened up was the 2009 Chamine, a Portugese wine I had picked up at the recommendation of my local wine shop. Â Being of Portugese heritage, I'm always game to try out a wine from there, and this wine was bright and tart.
Finally, we opened the 2007 Azura Pinot Noir. Â Light and bright, with great fruit flavors and a smooth finish that complimented our dinner perfectly.
Well, now you know what I had for dinner on Christmas day. Â I'd love to hear what you had as I'm always looking for more recommendations on this to try. Â Hope everybody had a great Christmas weekend, that you didn't get snowed in or out of where you were going, and that you have a great New Years.