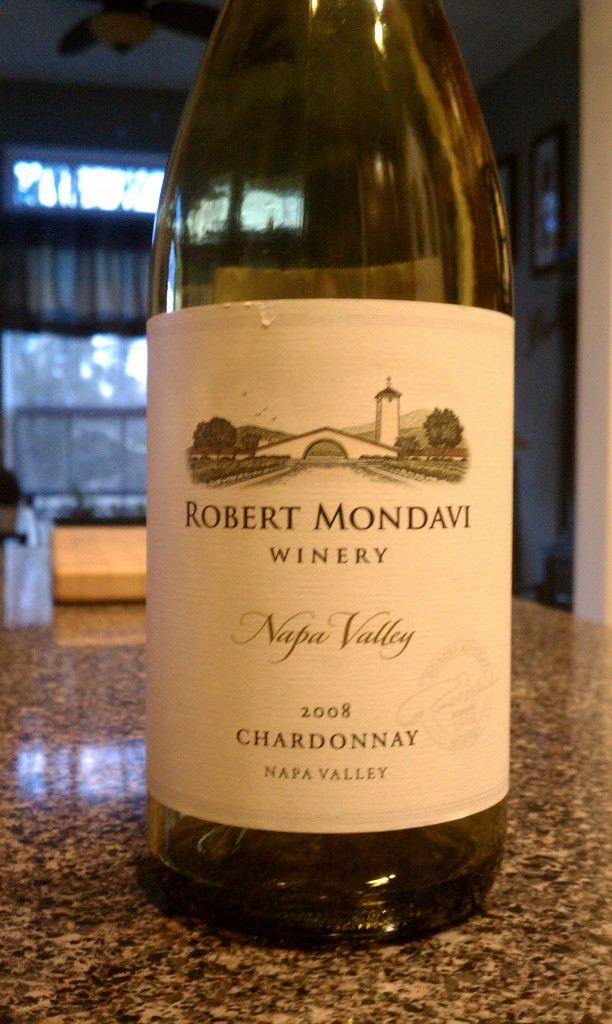 Varietal: 100% Chardonnay
Region: California – USA
Cost: $20 (SRP)
Golden in color with aromas of pears, Gala apples, stone fruits, and pineapple. Â Hints of nutmeg, cinnamon, panna cotta, and hazelnuts that all carry through to the palate. Â Pairs well with chicken, seafood, and pork dishes as well as some softer cheeses.
Recommendations: I'll admit that with the colder weather I've been on somewhat of a red wine kick, not the least of which has to do with my food selections. Â However, when the bottle of 2008 Robert Mondavi Chardonnay showed up at my office the other day, I will admit that I was happy for it as A) I don't have a lot of white in the house at the moment, and B) I was kinda in the mood for a nice Chardonnay.
If you've followed this blog for any amount of time you know that I have a bit of trouble picking out Chardonnays because my wife doesn't like oaked Chardonnay. Â While the Robert Mondavi has spent some time in French oak to age, it was fermented in stainless steel, and so I was hoping that the distinctive finish wouldn't be too bad for her. Â It wasn't.
The wine was clear and gold in the glass, and the aromas of apple and pineapple jumped right up into my nose with just a hint of nutmeg on the end of it. Â In the mouth the wine was light and crisp, with apple, pear, and pineapple flavors carrying through, and then a nice, subtly creamy finish from the time in French oak with some nutmeg and hazelnuts on the finish.
Paired with a dinner of mustard and herb chicken, salad, and creamy garlic pasta side, it was a great compliment to everything on the table, and was enjoyable by itself, a feature that can be hit or miss for me with Chardonnay that's spent some time in oak. Â If you're like my wife and don't like oaked Chardonnay, I would still recommend giving the 2008 Robert Mondavi Chardonnay a try as it's subtle and might help usher you in to enjoying them.
Also, if you can't find the wine at your local store (which honestly shouldn't be a problem), you can always click on this link and have it shipped right to your home or office.