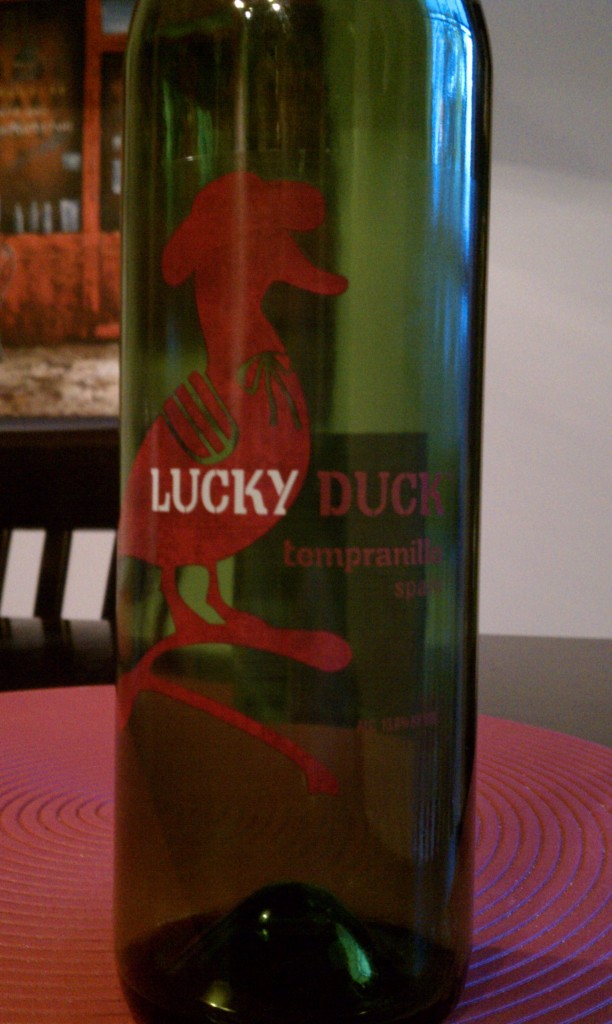 Varietal: Tempranillo
Region: Spain
Cost: $4
Dark garnet in color with aromas of berry and dark cherry. Â On the palate, dark cherry, spice, and bittersweet chocolate. Â Pairs well with grilled lamb, olives, and rich cheeses.
Recommendations: So I don't remember where or when, but somewhere, on some blog or website, I had read about the Lucky Duck line of wines. Â Unfortunately I don't remember what that blog/article/website said. Â So, when I came across the wines at my local Wal-Mart while poking around after buying new glasses (the eye kind, not the drinking kind), I knew that I was familiar with the wine's name, but not much else. Â However, since I'm always looking for something new to try, I grabbed some.
The wine itself was a dark garnet color in the glass, and the aromas of dark cherry were pretty in your face. Â That cherry and some berry carried into the palate in what was a very bright, fruit forward wine, but also very clearly a Tempranillo. Â With a dinner of beef stew that the wife had been cooking all day it was a nice bright note against the heartiness of the meal.
Now, I'm not going to sit here and tell you that this is an amazing Tempranillo and that you simply must buy it. Â However, at $4 a bottle, it's a noticeable step up from the usual cheap cabernet/shiraz/merlot table wines you usually find at your big box stores, with a selection that included a Malbec as well (that I will be reviewing at a later date). Â Is this wine even in my top 30 all time-time Tempranillos? Â No, of course not. Â Would I buy it again as an inexpensive wine to keep around as a slightly above average table wine? Â Sure.
If you're looking for a quality Tempranillo that really shows off all that the grape has to offer, look elsewhere. Â If you're looking for a cheap bottle of wine that's different than the usual varietals you see on the shelves, than you should absolutely give this one a whirl. Â I mean, what do you really have to lose beyond the four bucks?