One of the perks of running this site is that from time to time I get invited to tastings that aren't open to the public. Last week I was invited to just such an event up in DC being hosted by Moet Hennessy featuring a number of vineyards and wineries both in and out of the US. The wineries we were trying wine from were:
Terrazas de Los Andes
Cloud Bay
Cheval des Andes
Newton
Lapostolle
Numanthia
Chandon
Chateau de Sancerre
Cape Mantelle
Several of the wineries had more than one wine they were pouring, in many cases too many to go over here, so I'll focus on the ones from each that really stood out to me.
Terrazas de los Andes (Argentina)
Terrazas had several offerings for me to try, both red and white, but a few really jumped out at me. Their Reserva Torrontes was nice and light with good floral notes and just a hint of citrus. Being from Virginia and all of the Viognier we produce I'm partial to this grape since it exhibits many similar characteristics to my state's grape.
The 2007 Afincado Malbec was a nice medium bodied wine with good fruit flavors but it did a great job of avoiding being jammy, instead featuring just the right amount of body and practically begging for a steak to pair with it.
Cloudy Bay (New Zealand)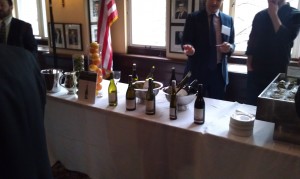 Cloudy Bay stepped up their game by having an oyster bar set up next to their wine samples to pair their wines with I am, however, not a huge fan of raw oysters and have to really be in the mood for them, which I was not on that day. From listening to others though they were a great pairing with the whites Cloudy Bay had to offer.
The Sauvignon Blanc was a nice dry wine with stone fruit on the nose and a crisp, citrus flavor in the mouth that I rather enjoyed and could see myself enjoying on a hot summer day. The 2008 Te Koko, also a Sauvignon Blanc, was crisp at first but with a nice creaminess on the finish thanks to spending 18 months in French Oak. While I normally prefer a Sauvignon Blanc with tons of citrus, I liked the versatility that the creaminess added to the wine, making it a good supplement for those that don't like Chardonnay.
Cheval des Andes (Argentina)
Cheval des Andes only had one wine for me to try, their 2007 vintage which was a blend of Malbec, Cabernet Sauvignon, Cabernet Franc, Merlot, and Petit Verdot. Having spent 18 months in new French Oak the wine had spice and sandalwood on the nose with leather in the mouth that lead into dry red fruit.
Newton Vineyard (California – Napa Valley)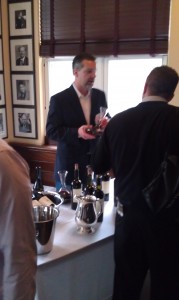 Newton had a wide range of wines to offer, and the specialize in unfiltered wines. They had several to try, both red and white but two really jumped out at me, starting with their Unfiltered Cabernet Sauvignon which I found jammy and smooth with plenty of body. It would go great with a steak and was tasty with the sliders that were being passed around.
The signature wine from Newton is their Puzzle, and I got to taste the 2008 vintage which featured a blend of 42% Merlot, 36% Cabernet Sauvignon, 14% Cabernet Franc, 6% Petit Verdot, and 2% Malbec. Newton doesn't make the Puzzle every year, only on years when they feel like the quality is up to their standards which is something that I appreciate. The wine had lots of fruit and danced the line between medium and full bodied and featured some earth notes on the finish that were quite nice.
Lapostolle (Chile)
This was actually the first table that I visited and they had so many wines to choose from that I had to make myself only choose a few to taste since I knew there was a lot of tasting still to come. I'm a fan of Chilean wine and they had a couple that I could see myself buying.
The Carmenere was nice and dry with bramble flavors in the mouth and a good juice finish to help cut some of the dryness. I really liked this wine and even starred it on my notes as one I would give serious consideration to buying.
Their signature bottle was the Clos Apalta, a blend of 73% Carmener, 17% Cabernet Sauvignon, and 10% Merlot that's spent 22 months in New French Oak. The Carmenere really comes through on this wine, with the bramble from the previous Carmenere tempered with dark fruit and balanced tannins. This was a very good wine.
Numanthia (Spain)
Featuring three different wines for me to try I enjoyed all of them. The one that really stood out for me though was the 2004 Termanthia made using 100% Tinta de Toro grapes. The wine was smooth with leather and cigar box notes on the nose and in the mouth and had a dryness that I quite enjoyed.
Chandon Sparkling (California – Napa Valley)
Chandon actually had two tables set up, one featuring still wines and another featuring sparkling wines. We'll start with the sparkling wines, of which I was able to taste five different bottles, two of which were just excellent.
The Etoile Brut, a blend of 53% Chardonnay, 45% Pinot Noir, and 2% Pinot Meunier, was dry with a nuttiness and medium bubbles. I really enjoyed this and it's at worse a better than average sparkling wine. The wine had been aged sur lees for no less than five years.
The other wine that I enjoyed, the Etoile Rose', was orange in color thanks in no small part to being aged for no less than five years as well, and had small, subtle bubbles, and a crisp dryness with just a touch of acid and candied fruit that was tempered thanks to being aged for five years.
Chandon (California – Napa Valley)
There were four still wines being poured by Chandon, but only two that I really enjoyed. The first was the Pinot Noir which had light berry and cola flavors and made me really want some salmon to pair with it. The Pinot Meunier was a new one for me and one that I wished I'd had before. It was light in the mouth with subtle flavors of raspberry and smooth finish. This is a great hot weather red wine and another of those that I would have been hard pressed to turn down buying a bottle of to take home with me.
Chateau de Sancerre (France – Loire Valley)
Featuring three different wines to try, there was really only one that really jumped out at me. The Pinot Noir was light with subtle fruit and a touch of spice. This would be a great red for sipping on the deck on a warm Spring day as it didn't have too much body but would still pair well with food.
Cape Mentelle (Australia)
I started out with the Sauvignon Blanc at Cape Mentelle, the first of the two wines they were offering. The wine was crisp with a bit of pepper on the finish that I found different and not unenjoyable and could see myself sipping this on my deck with my wife.
The Cabernet Sauvignon was a blend of 96% Cabernet Sauvignon, 2% Cabernet Franc, 1% Petit Verdot, and 1% Merlot. The wine was very jammy and all but cried out to be paired with a dry-rubbed steak to balance out the big fruit flavors.
The Occidental
I want to thank The Occidental for being great hosts. The food they offered up for us was amazing, including a wide range of cheeses, mushroom soup, sliders, and risotto croquettes with a black truffle dipping sauce that were nothing short of amazing.
I also want to thank Moet Hennessy for inviting me to the tasting. I didn't get the opportunity to attend any of the seminars they were holding as well, but I appreciated that they were doing not just tastings, but offering education as well. I enjoyed this event very much and as always it was nice getting to try new wines.