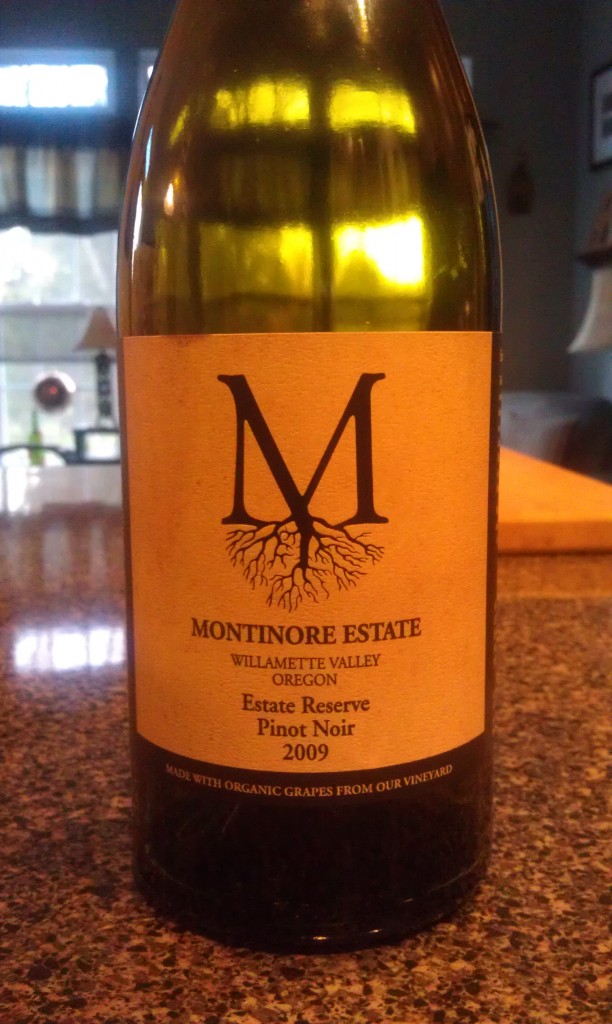 Varietal:Â  100% Pinot Noir
Region:Â  Willamette Valley – Oregon – USA
Cost:Â  $22
Winemaker's Notes:Â  The medium garnet color introduces a bright aroma of raspberry, cherry, and cedar with hints of pie spice, sandalwood, and dried cherry. On the palate it opens to ripe cherry, red and black raspberry, and mocha accents supported by a medium plus body and full, fine grained tannins. Pairs well with grilled meats, flavorful sauces, and rich farmhouse cheeses.
My Review:Â  This wasn't the first time I'd had the 2009 Montinore Estate Reserve Pinot Noir, no that would have been some weeks ago at my local Fleming's Steakhouse & Wine Bar where Mike, our favorite bartender there, convinced my wife and I to give it a try during a visit there for happy hour. We liked it so much I went online and ordered half a case of it.
The wine is a beautiful light garnet color in the glass and on the nose I got notes of raspberry and cedar that were welcoming and just invite you to take a sip. On the palate cherry, raspberry and earth notes with a touch of spice on the nice smooth finish make this an incredibly easy wine to just sip on. In addition, the wine has been certified biodynamic and organic, so if you're looking to try a wine that has less of an impact on the environment, this is a great one.
I didn't pair this wine with food last night, but I did have a bottle opened at my parents' house for Thanksgiving dinner and it went quickly, going well with the spread my Mom had prepared, especially the turkey. If you want to try this wine, and I highly recommend it, and can't find it at your local store, you can follow this link and have it shipped directly to you…just like I did. http://www.winezap.com/search/searchResults.cfm?r=181364