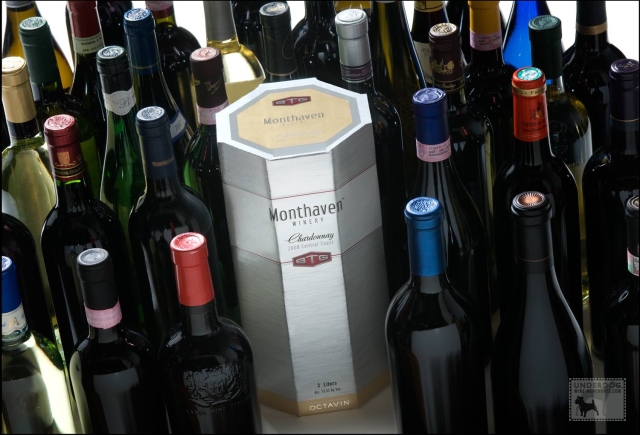 I've been thinking about writing a piece on boxed wines for a while, but had been having a hard time trying to think of a good argument in favor of boxed wine. Â Sure, you get a lot of wine in a single package for a better price than the same number of bottles would cost, but you're often sacrificing quality to save that money, and there are plenty of wines in a bottle out there that are affordable and quality. Â Then I got some samples of the Octavin Home Wine Bar.
The first thing that I noticed in the Octavin was the packaging. Â As the name would imply, the boxes are eight-sided, taller than they are wide, with a top of the line twist-to-open spout that prevents leaks and are, most importantly, stylish. Â Unlike most boxed wine which comes in a simple square or rectangular package, the Octavin Wine Bars are stylish packages that you won't be ashamed of to put out at a party.
On top of quality packaging, Octavin has come up with a great selection of wines to put in their stylish boxes. Â Big House Red and White, Monthaven Chardonnay, Pinot Evil Pinot Noir, Boho Vineyards Zinfandel, Silver Birch Sauvignon Blanc, and Seven Spanish Red Wine Blend – a wide selection for every occasion and every palate with prices ranging from $22 to $25 each (SRP).
If you're anything like me you're always looking for wines that's great for putting out at parties or you're just looking to have a single glass of wine. Â The Octavin Home Wine Bars are perfect for both needs. Â I sampled the Big House Red, the Monthaven Chardonnay, and the Silver Birch Sauvignon Blanc. Â I'd had Big House Red before, and I found that I actually enjoyed it more in the Octavin Home Wine Bar than in a bottle. Â Not that I felt it tasted different, but I liked having it available for a single glass as a table wine from the Octavin – something that having a bottle of it didn't offer. Â In addition, my in-laws were visiting when I received the samples and my father-in-law loved being able to take just a glass whenever he felt like it without having to open a bottle.
For the same reasons I enjoyed the Monthaven and especially the Silver Birch Sauvignon Blanc. Â With the temperature continuing to climb here in Virginia, a refreshing glass of wine is always welcome on a hot day when trying to relax on the weekend or for pairing with a quick lunch or dinner.
I'm not saying that boxed wine will ever replace bottled, but the Octavin Home Wine Bar is certainly a great step in the direction and perfect for anybody looking for a quality table wine that's perfect for parties or just a wine by the glass. Â If you see this at your local store I would definitely recommend giving it a try.