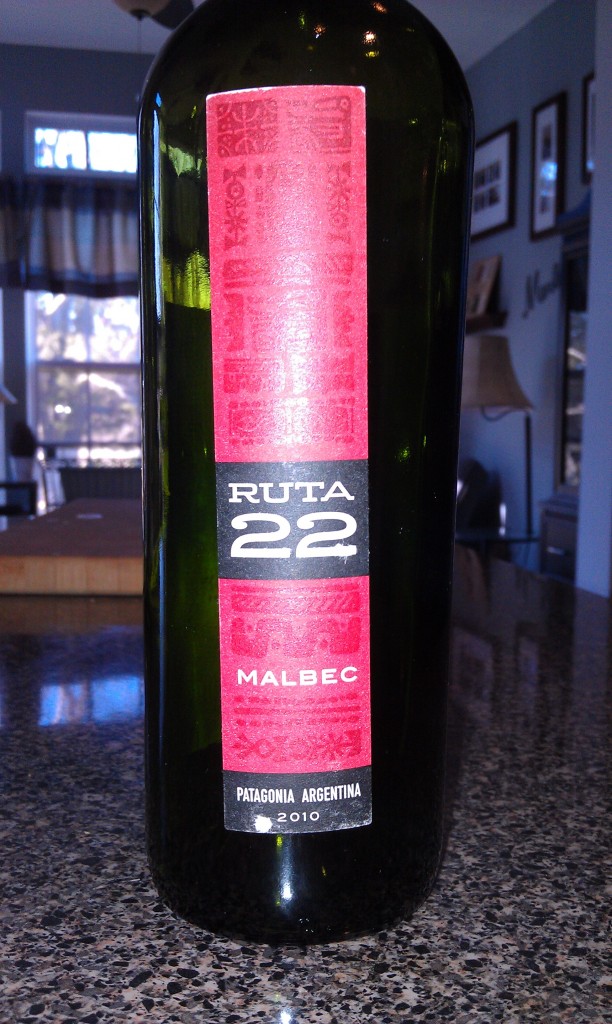 Varietal:Â  100% Malbec
Region:Â  Patagonia, Argentina
Cost:Â  $13 (SRP)
Winemaker's Notes:Â  A deep ruby-colored wine with rich, smooth blackberry flavors and vanilla aromas. Pairs well with red meats, cheeses, and pastas.
My Review:Â  I've been a fan of Malbec for some time now, I've found it to be, on the whole, a nice inexpensive alternative to numerous other budget wines where you can get far better quality than your dollar would lead you to believe, especially coming out of South America, and it tends to pair well with the foods I like to eat. Because of that, I was pleased to receive a bottle of Malbec as a sample right at the end of the year, and my wife and I finally decided to pop the cork and give it a try last night.
When I usually think of budget Malbec I think of wines with good fruit notes, maybe a bit fruit forward, but with dark notes and some body that can hold up to bolder meals. The 2010 Ruta 22 Malbec exhibited most of those things, but it wasn't nearly as fruit forward as I was expecting, and that's not a complaint at all.
As I was pouring the wine into a decanter (my wife and I received a custom etched decanter from my wife's brother for Christmas and have found ourselves using it for just about every bottle of red we open lately) I noticed a lot of purple notes slashing through the deep red of the wine. On the nose I got a bit of alcohol at first, in no small part because of the 14.5% alcohol content, but that eventually gave way to blackberry notes and a touch of spice.
In the mouth the wine had tons of fruit, but instead of being "fruit forward" there was a nice dryness to the finish that I wasn't expecting but appreciated. Paired with some pasta with red sauce and meatballs it wasn't terrible, but my wife and I suspect that it would have paired better had we not thrown crushed red pepper into the sauce. That being said, when sipping on the wine after we'd finished eating it was a nice easy sipping wine with a bit more character than your usual budget Malbec.
If you want to give this wine a try and can't find it at your local store, just follow this link and you can have it shipped directly to you.