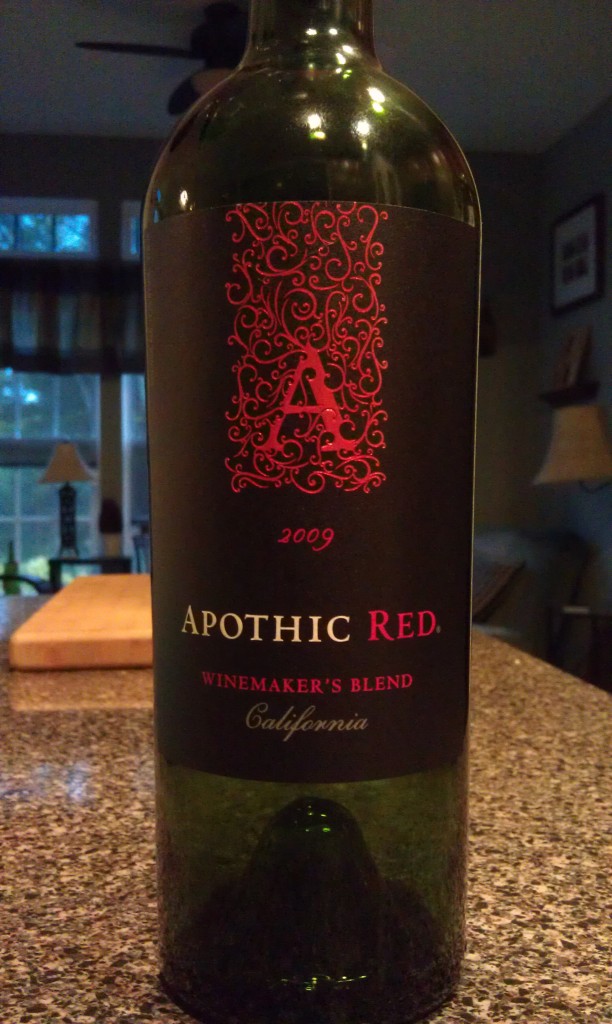 Varietal:Â  Zinfandel, Merlot, Syrah
Region:Â  California – USA
Cost:Â  $14 (SRP)
Winemaker's Notes:Â  The 2009 Apothic Red reveals intense fruit aromas and flavors of rhubarb and black cherry that are complemented by hints of mocha and vanilla. The plush, velvety mouthfeel and smooth finish round out this intriguing, full-bodied red blend.
My Review:Â  Around this time of year I start getting samples offered with Thanksgiving and Christmas not too far away. I have to say that this is the first year of writing this website that I was offered a sample for Halloween. I'd seen the various bottles of wine on shelves that were obviously trying to appeal either to the Halloween drinking crowd or goth kids too stupid to buy something that didn't have a vampire or other creature of the night, but I'd never picked one up myself, so when I was offered a sample of the 2009 Apothic Red with Halloween coming up, I was interested since I've never really done a Halloween feature on here.
First of all, a talk about themed wines – in general, I don't buy into them. That's not to say that I don't appreciate a cleverly named or labelled bottle that is appropriate for a specific event, but when planning my wine offerings for an event, I try not to limit myself to what's on the label and more to what's in the bottle to make sure it suits what food is out and also the crowd that will be drinking it.
Now, all of that being said, if I was going to put out a themed bottle of wine for a Halloween party, I could do a lot worse than the 2009 Apothic Red. Nice and dark and purple in the glass with aromas of berry and a touch of spice, in the mouth I got mostly dark, juicy fruit and a cola finish that was smooth. Like really smooth. Like this may be the smoothest finish to a wine I've ever  had.
This wine was incredibly easy to drink, and will appeal to most palates in a non-critical wine drinking environment (read: drinking without paying much attention to what you're drinking). There's nothing particularly fancy about the wine, but I didn't find it disappointing in any way, and it went well enough with a couple of frozen pizzas that my wife and I cooked up, something I imagine would be offered up at Halloween parties this weekend.
If you're looking for a themed bottle of wine to put out for your Halloween party, I can honestly say I'd go with this one. It should be available in most of your local stores, I've seen it in mine, but if you can't find it, and you're not in a rush to try the wine, here's a link where you can order it for yourself.